iPad Primer with Embedded Video Tutorials
Many people who have an iPad use it primarily to consume content such as movies, music, games, and news, or they spend most of their time online in social networking. Such consumers never discover the more creative side of the iPad, which enables you to create instead of merely consume multimedia content on the Internet. That is why this course begins by immersing you in a multimedia tutorial that uses the iPad as a tool to demonstrate how you can create this kind of multimedia learning environment. The tutorial is delivered in an eBook entitled iPad Primer with Embedded Video Tutorials. Never has it been more true that the medium is the message: by taking advantage of the iPad's ability to embed videos in an eBook, the iPad Primer enables you to experience the kind of multimedia learning environment you will be able to create after working through these tutorials.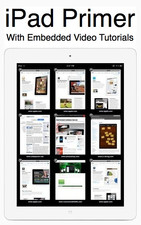 A logical place to begin is iBooks, because iBooks is the eBook reader with which you will work through the iPad Primer. In Chapter 1 you learn how to use the iPad's onscreen keyboard to take notes, and you practice using the bookmarking and highlighting tools that can help you study. In Chapter 2, you use the Camera to take photos, and you learn how the Camera stores these images on the Camera Roll. Chapter 3 teaches you how to surf the Web and save to your Camera Roll images you find on Web pages. In Chapter 4, you learn to use Wikipanion to save to your Camera Roll images found in Wikipedia. Chapter 5 teaches you how to write on the iPad using the best-selling Penultimate app for freehand drawing and note-taking. In Chapter 6, you learn how to make screen shots that enable you to capture to your Camera Roll any screen from any app on your iPad. Sometimes a screen shot will be turned the wrong way; Chapter 7 shows you how to rotate images using Adobe Photoshop Express.
The next part of the book is devoted to digital storytelling. When planning to make a movie, it helps to create a plan called a storyboard to organize your thoughts and plan how your movie will unfold. Chapter 8 shows how to use iCardSort to storyboard your movies and plan the flow of concepts in your stories. In Chapter 9, you learn how to insert any image from your Camera Roll into digital stories that you make with iMovie, which is the app used in making all of the Primer's show-me movies.
If you do a lot of writing, an app that can save time is Dragon Dictation. Chapter 10 teaches you how to use Dragon to transcribe into text anything you speak into the iPad's microphone. Through the multitasking tool taught in Chapter 11, you can quickly paste your dictations into any app on your iPad.
Having gotten you started, the Primer points you to resources you can use to find more exciting content and apps for your iPad. Chapter 12 gives you tips for finding the best apps, and Chapter 13 shows how to find freely available content at iTunes U. In Chapter 14, you learn how to get free eBooks from Apple's iBookstore.
If you want to create your own eBooks, Chapter 15 shows how to use Pages to create eBooks such as the iPad Primer, which was totally authored in Pages, and Chapter 16 shows how to move these kinds of files to and from your iPad via iTunes. In Chapter 17 you learn to manage files with a cloud-based solution called Dropbox, and Chapter 18 introduces the GoodReader app for managing files and annotating PDFs. In Chapter 19, you learn how to create folders to keep your iPad organized as your library grows. Chapter 20 shows you how to configure your iPad for email, calendaring, and contacts. To prevent unauthorized access, Chapter 21 has you secure your iPad. Chapter 22 teaches you how to search your iPad to find things you may be looking for. In case you ever need to make a presentation, Chapter 23 shows how to project your iPad. If you run into problems, Chapter 24 gives troubleshooting tips and advice. The final chapter concludes the Primer by providing you with resources for learning more about the iPad. At the end of the book is a movie index of links to the show-me movies that are embedded throughout the Primer.
Follow these links to learn more about what each chapter teaches.