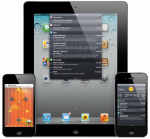 iPad Application Design & Development
This page presents one in a series of modules comprised by the course EDUC 439/639: iPad Application Design & Development.
Module 6: Human Interface Guidelines
The iPad has a sophisticated user interface. To make your app intuitive and easy to use, you need to understand how to design an app that applies the user interface properly.
After completing this module, you will be able to:
Define the design elements comprised by the iPad's user interface.
Know when to use each design element or not.
Employ in your app the design elements you choose to include.
Apple's guidelines for creating the iOS user interface are in an article entitled Design with the User in Mind.