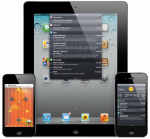 iPad Application Design & Development
This page presents one in a series of modules comprised by the course EDUC 439/639: iPad Application Design & Development.
Module 8: App Store
More than 350,000 apps are in the app store. This module presents the process you follow to distribute your app there.
After completing this module, you will be able to:
Test your app to make sure it runs properly on end-user devices.
Register the devices you want to test on.
Create certificates that authorize developers to sign an app.
Create an app ID to identify the app.
Submit your app through iTunes Connect.
To learn these aspects of app store distribution, follow this link to Prepare for App Store Submission.