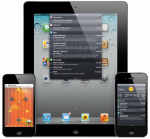 iPad Application Design & Development
This page presents one in a series of modules comprised by the course EDUC 439/639: iPad Application Design & Development.
Module 4: Sample Apps
The iOS Development Center contains dozens of sample apps that demonstrate application development techniques across a broad range of iPad capabilities. By downloading the samples containing features you are interested in learning, you can get them running and see how they work, then you can use Xcode to study the code that powers them.
After completing this module, you will be able to:
Log on to the Apple Development Center and find the sample apps.
Download a sample app and get it running.
Use Xcode to study the sample code and learn how it works.
After you log on to Apple's iOS Development Center you can follow the link to the sample code. Here you find more than 150 apps for which you can download and install the source code and get it running either in the iPad Simulator or on your iPad. The menu of sample code is organized according to title, topic, framework, and date. Click the column heading to sort the list on its category. To see the most recently updated code samples, for example, click the Date heading. To sort by framework, click the Framework heading.