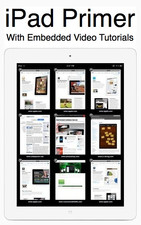 iPad Primer with Embedded Video Tutorials
This page is one in a series of screens that display the learning objectives covered in the course EDUC 439/639: iPad Apps for Educators. The learning modules are in the iPad Primer, which students download to their iPads from Apple's iBookstore. Embedded in the modules are show-me movies that illustrate the tutorials and make them interactive. What powers this multimedia learning environment is the iPad's support for the <video> tag, which enables authors to embed movies on iBooks pages. One of the byproducts of working through the iPad Primer is that you will become able to write your own multimedia EPUB documents, if you would like to author a multimedia eBook for publication at Apple's iBookstore.

Chapter 5: Freehand Drawing and Note-Taking with Penultimate
After completing this chapter, you will be able to:
Create as many notebooks as you want, with each notebook having as many pages as you need.
Draw with the pen by writing or scribbling with your finger onscreen.
Change the pen's color or thickness.
Selectively erase or erase the entire page.
Undo mistakes and redo something undone.
Change the paper style to lined paper, graph paper, or plain paper.
Import a background image from your Camera Roll or Photo Album.
Email individual pages or complete notebooks.
Save a page to your Camera Roll for use in other apps, such as digital storytelling with iMovie.