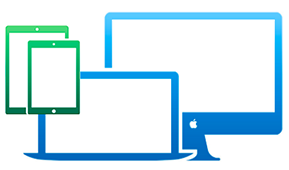 Apple Teacher Certificate Course Description
The Apple Teacher Certificate is an industry standard credential awarded to educators who earn six badges that the certificate comprises. In this course, participants can earn the badges either on the iPad or on the Macintosh (or on both). These badges include either the iPad or the Mac plus the five apps of Pages, Keynote, Numbers, iMovie, and GarageBand. The course framework consists of modules pacing participants through the material. Participants network with one another in the course discussion forum and complete checkpoint assignments logging their progress, while the course instructor serves as a coach to help solve any problems along the way. Developed by Apple Education, the curriculum is standards-based (ISTE aligned). Candidates work through the curriculum online by studying eBooks produced by Apple and then taking online tests that lead to earning each respective badge.
Follow this link to see the course assignments.