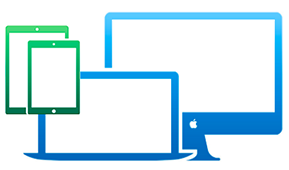 Apple Teacher Certificate Course Textbooks
This course does not require you to purchase any textbooks. Instead, you will use Apple Teacher tutorials that are all freely available online. To locate these tutorials, follow the link to the module for which you are seeking instruction:
Computers
To complete the hands-on assignments, each student will need access to an iPad or a Mac that is connected to the Internet.
Computer Accounts
Every University of Delaware student automatically receives an e-mail account. You should visit www.udel.edu/network to manage your password, username, and quotas.
E-mail Addresses
Every student in this class must have an e-mail address on the Internet and read e-mail regularly. If you're enrolled in a University of Delaware course, and you do not have an e-mail account yet, go to the help center and follow the e-mail link for detailed instructions on how to activate your e-mail account. If you do not read your UD mail regularly, you should go to www.udel.edu/network and follow the instructions to forward your e-mail to your preferred e-mail address.