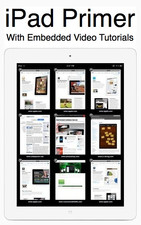 iPad Primer with Embedded Video Tutorials
This page is one in a series of screens that display the learning objectives covered in the course EDUC 439/639: iPad Apps for Educators. The learning modules are in the iPad Primer, which students download to their iPads from Apple's iBookstore. Embedded in the modules are show-me movies that illustrate the tutorials and make them interactive. What powers this multimedia learning environment is the iPad's support for the <video> tag, which enables authors to embed movies on iBooks pages. One of the byproducts of working through the iPad Primer is that you will become able to write your own multimedia EPUB documents, if you would like to author a multimedia eBook for publication at Apple's iBookstore.

Chapter 17: Managing Files with Dropbox
After completing this chapter, you will be able to:
Understand that Dropbox is a popular cloud-based solution for moving files to and from the iPad as well as the rest of your computers and mobile devices.
Get your account by logging on to dropbox.com, where accounts are free until you exceed the gigabyte Dropbox gives you for free.
Install Dropbox on a Macintosh or a PC in addition to installing it on your iPad.
Make private folders that are accessible only to you, or share selected folders with other users.
Find the Dropbox setting to increase local storage, which determines how many recently viewed files are stored on your iPad for offline use.