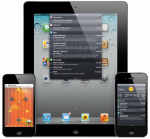 iPad Application Design & Development
This page presents one in a series of modules comprised by the course EDUC 439/639: iPad Application Design & Development.
Module 5: Objective-C
Obective-C is the programming language in which you develop apps for the iPad, iPhone, and other iOS devices.
After completing this module, you will be able to:
Understand the nature of object-oriented programming.
Peruse the textbooks and resources availablefor learning Objective-C.
Choose the tutorial approach best suited for your learning style.
The textbooks page lists books and resources for learning Objective-C. Instead of requiring students to purchase one of these books and learn one way of doing it, this course provides the flexibility for each student or team to decide the approach they want to take and adopt the materials most appropriate for your current skill level and application development goals.