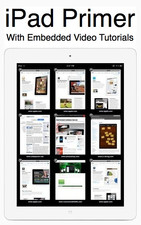 iPad Primer with Embedded Video Tutorials
This page is one in a series of screens that display the learning objectives covered in the course EDUC 439/639: iPad Apps for Educators. The learning modules are in the iPad Primer, which students download to their iPads from Apple's iBookstore. Embedded in the modules are show-me movies that illustrate the tutorials and make them interactive. What powers this multimedia learning environment is the iPad's support for the <video> tag, which enables authors to embed movies on iBooks pages. One of the byproducts of working through the iPad Primer is that you will become able to write your own multimedia EPUB documents, if you would like to author a multimedia eBook for publication at Apple's iBookstore.

Chapter 1: Learning from iBooks
After completing this chapter, you will be able to:
Bring up controls that let you return to the library, go to the table of contents, adjust the brightness, change the text size, choose a different font, search for something in the book, or make a bookmark.
Use the bookmark tool as a toggle that you can tap again and again to turn a bookmark on or off.
Highlight passages to help you study by colorizing an important word or passage that you want to mark up for study purposes.
Take notes that appear in the book's margin where you can tap to bring your notes onscreen.
Lock or unlock the screen orientation and type text in portrait or landscape orientation.
Type numbers, special symbols, and lock the keyboard to type all in caps or not.
Accept or reject dictionary suggestions that can speed up your typing and help prevent typographical errors.
Turn off autocorrection if you do not want dictionary suggestions appearing onscreen.
Use the magnifying glass while editing text in order to position the cursor precisely onscreen.
Copy and paste single words or longer passages you select onscreen.
View individual notes appearing in the book's margin, or delete a note you no longer want.
See all your notes and email them to the user of your choice.
Look up the meaning of any word and search for any word or phrase in the book.