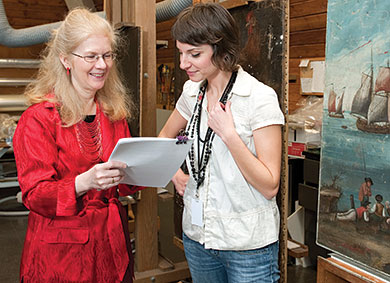 A stunning 190 million photographs are in need of conservation treatment in the United States, according to a 2005 report from Heritage Preservation, a non-profit dedicated to preserving the nation's cultural heritage.
And that represents only a portion of one sector of the world's heritage at risk. Many countries lack professional conservators and the resources to properly preserve their collections, such as library materials and photographs, paintings, sculpture and archaeological artifacts.
However, growing connections among preservation professionals are brightening the outlook for these global heirlooms.
Sixty conservation delegates from 32 countries on five continents met in Salzburg, Austria, in 2009. The gathering, hosted by the Salzburg Global Seminar and the U.S. Institute of Museum and Library Services, was designed to develop effective ways to promote conservation and to implement best practices worldwide.
The resultant Salzburg Declaration affirms the need to strengthen education, increase community engagement, and raise public awareness regarding at-risk cultural heritage, according to Debra Hess Norris, Henry Francis du Pont Chair in Fine Arts.
Norris, the chair of UD's Department of Art Conservation and an authority on photograph conservation, led the international meeting with Vinod Daniel, head of the Cultural Heritage and Science Initiative at the Australian Museum. Joyce Hill Stoner, Edward F. and Elizabeth Goodman Rosenberg Professor in Material Culture and director of the Preservation Studies Doctoral Program at UD, was the meeting's official rapporteur.
"If we can continue to strengthen our global partnerships and share our knowledge and strategies, we can make a significant difference in protecting and preserving our international cultural treasures," Norris notes.
Norris and her UD colleagues cultivate budding conservators through the renowned Winterthur/University of Delaware Program in Art Conservation, one of only five master's programs in the world, a collaboration with Winterthur Museum in Winterthur, Del. Additionally, program faculty are engaged in numerous projects at home and abroad, from South America to China.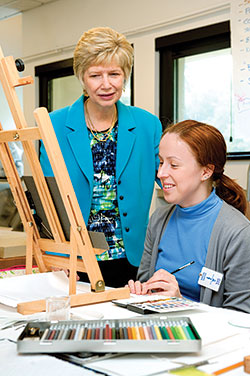 The Middle East Photograph Preservation Initiative, led by the Arab Image Foundation, Metropolitan Museum of Art, Getty Conservation Institute, Qatar Museums Authority and UD, seeks to save photographic treasures spanning the archaeological expeditions of the 1800s, whose images of the great pyramids and sphinxes captivated the world, to the wedding parties, refugees, and other scenes of daily life that capture both the beauty and tumult of the region today. Conservator workshops in Beirut, Doha and Cairo will be followed by eight months of an applied practicum coupled with distance mentoring.
UD is training museum professionals from the Hermitage State Museum in St. Petersburg, Russia, in the art and science of photograph conservation through a project of the Foundation of the American Institute for Conservation of Historic and Artistic Works, and funded by the Andrew W. Mellon Foundation. The Hermitage encompasses not only the largest collection of paintings in the world, but over 472,000 photographs, ranging from family pictures of Czar Nicholas II to historic scenes of St. Petersburg.
Also with the support of the Mellon Foundation, a consortium involving UD and nonprofit library and conservation organizations is working to preserve the photographic collections in historically black colleges and universities (HBCU) as vital pieces of American history. In June 2012, UD will host a weeklong photo-preservation training institute for selected HBCU undergraduates.