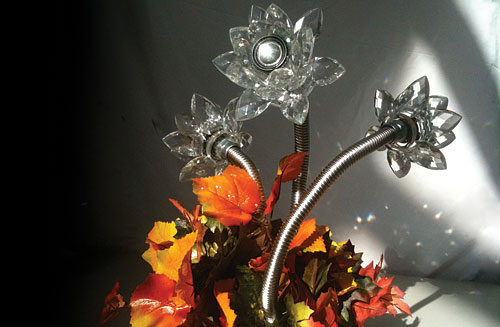 The pot of flowers with sparkling lucite petals on chunky metal earthworm stems may pose as modern art, but that's not all that Matthew Amey has in mind for it.
The senior art major at UD envisions the flower heads acting as speakers and microphones. Rather than bending toward the light as most living flowers do, one of his techno-blooms would light up and turn toward the nearest person in the room when a call came in. And the directional speaker would allow only the person directly in front of the flower access to the conversation.
Amey's concept is one of several cool ideas developed by Prof. Abby Donovan's team for Xerox Corporation.
Last fall, Xerox contacted Donovan, assistant professor of art at UD and an experienced toy designer, to do consulting work on some innovation concepts. When Donovan asked if she could involve UD students in the creative process as a learning experience, Xerox gave her a big thumbs-up.
Donovan quickly assembled her interdisciplinary team through the Delaware Design Institute, including Amey, a self-taught artist from Maryland's Eastern Shore who is working on his bachelor of fine arts degree; Michael Pfeifer, a leadership major who graduated with his bachelor's degree this past spring; Yingbo Wang, a computer engineering major; and three recent alumni of UD's art program — Greg Kleiber, Emily Bunker and Brittany DeNigris. Terry Harvey, assistant professor in the Department of Computer and Information Sciences, joined Donovan in leading the group.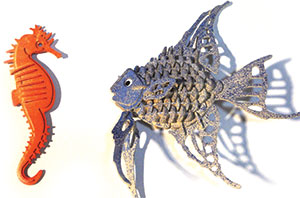 The team's challenge was to imagine the home of the future and then transform their ideas into creative prototypes for an exhibition hall at Xerox, a space the company's engineers pass through every workday.
Unlike Donovan's inventions for toy companies, the prototypes for Xerox were not required to be functional, but they needed to be engaging. The team's goal was to trigger the imaginations of the Xerox engineers, sparking them to think about how to implement the new ideas technologically.
And the deadline was entirely "real world" — the UD team had a month and a half for the entire process, from brainstorming ideas to transforming the ideas into sketches, then models and three-dimensional mockups for the exhibit.
"Xerox was very explicit — they painted a process of what and where to imagine," Donovan says. "They wanted to be totally surprised by our concepts, but they wanted them to fit within specific, confidential parameters."
Donovan says she learned early on as a toy designer that it's important to respect your client's priorities when assigned a project, but you also need to be "a little razzly dazzly" when presenting your ideas.
"It's not always easy coming up with new ideas, and it's another thing entirely for people to take those ideas seriously, so your ideas need to be creative but they can't be super pie-in-the-sky," she notes. "You need to listen carefully to what you're told by the company, and then let your imagination go."
Her team took that advice to heart, working on their projects for the technology giant. Headquartered in Norwalk, Conn., Xerox is one of the world's leading document management and business process outsourcing companies and has more than 135,000 employees in 160 countries.
At the team's first meeting, Donovan outlined the challenge and provided the dimensions for the exhibition space. The group began mulling over ideas and agreed to meet again in three days. Donovan encouraged the students to go after "what grabbed them."
At the next meeting, the group discussed their concepts, as well as the practicality of fitting them within the exhibit space. After more brainstorming and sketching, the group met with Xerox representatives to make sure what they were planning was in line with the company's objectives. Then they raced to create their prototypes. By November, the tableaus were installed at Xerox's New York office, where they would remain until August 2011.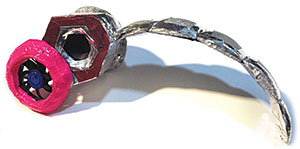 Among the creative prototypes, "Maple Seed," designed by Wang, represents a camera that could take 360-degree panoramic photos. Once thrown into the air, it would unfold into a monocopter controlled from the ground by the photographer through remote control viewing goggles.
Angelfish and seahorse hologram avatars would help keep family members on track with schedules and to-do lists. Amey, Donovan and Kleiber envision these "Imaginary Friends" following their humans from place to place, responding to an electromagnetic leash system woven into clothing.
"CeramaPuff," by Donovan and Harvey, could be easily molded into cooking containers of all shapes and sizes — and then quickly formed back into a smooth slab for easy cleaning in the sink or dishwasher. Interfacing with recipe displays, it could keep track of ingredients so that, as the designers note, no one would need wonder again, "Did I already add the baking soda?"
"This project was refreshing in that it allowed us to come up with some crazy ideas working with a large corporation in a once-removed, ultra-secretive fashion," says Amey, who is looking forward to future projects. "All-in-all, it was an exciting and creative experience."