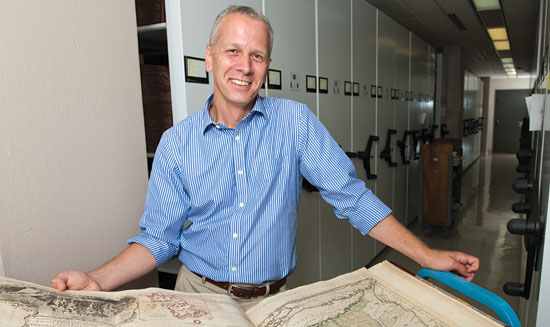 Americans seeking their place in the world in the late 18th and early 19th centuries didn't have to look far. Maps, says the University of Delaware's Martin Brückner, were everywhere.
"Maps were not just useful objects, but they were also decorative and sentimental objects," notes the associate professor of English, who has extensively researched the role of maps in American life, focusing on the period from about 1750–1876. "They could document your national pride, help tell the story of your heri­tage and enable families to visualize where their relatives were traveling or living."
In fact, Brückner says, maps were downright fashionable at the time and were incorporated into a variety of everyday objects. To showcase this trend, he has organized an exhibition that will be on display at Winterthur Museum near Wilmington throughout 2013, with the working title, "American Cartifacts: The (Not So) Secret Life of Maps, 1750–1850." He says he especially likes the word "cartifacts," coined from the combination of cartography and artifacts.
The idea for the exhibition originated when Brückner was a National Endowment for the Humanities Fellow at Winterthur in the spring of 2009. Already focusing his scholarship on maps, he discovered numerous objects in the museum's collections that related to the subject — most of which Winterthur had never before connected for display.
"I was working on a book, The Social Life of Maps, and I kept discovering these items at Winterthur that I could see were linked — and the link was cartography," he says. "My question was: What were they used for? Nowadays, we might frame a map and hang it on a wall, but in the past, people used them for multiple purposes."
Among the objects that arose from the map fad in American life were samplers that girls embroidered in school, ladies' handkerchiefs and fans elaborately decorated with maps, paper maps that fit onto the face of a pocket watch, map designs incorporated into advertising and business letterheads, and large "parlor screens" or room dividers lavishly covered with various maps. The exhibition is expected to encompass some 150 maps and related artifacts.
Brückner says the popularity of maps came about from a combination of factors. In Colonial America, maps were expensive and rare, but around the time of the French and Indian War, which began in 1754, more people grew interested in geography, and maps began appearing in shops in Boston and Philadelphia. With the Revolutionary War, Americans became even more focused on geography, including the location of battles and a new sense of nationalism, and by the early 1800s, new printing technologies had made paper maps relatively inexpensive to produce.
"At the same time that maps became increasingly in demand, they became affordable, so their use just took off," Brückner says. "They really became ubiquitous."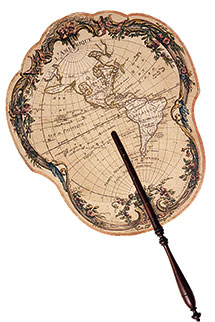 His own scholarly interest in maps began with their appearance in literature, but Brückner was intrigued by the subject much earlier than his time in graduate school. Before starting college in his native Germany, he served two years in the Army in the mid-1980s and was assigned to a surveying unit.
His job was land surveying — "which is just boring math," he says — but he would watch his military colleagues take the survey results and use them to create maps. He says he was especially interested in what maps showed and what they didn't show, such as locations of secret military installations that were left off the final diagrams.
"The mapmaking is what captured my imagination," he says. "I realized maps tell stories and force us into a particular mindset. They really are fascinating — we all use them, but we don't think twice about them."
After his military service, Brückner earned a bachelor's degree in English and American literature and cultural geography and then studied American literature in graduate school, where he noticed that 19th-century novels contained numerous references to maps and map-related metaphors. His interest continued as he earned a doctoral degree in the United States at Brandeis University and began teaching at UD in 1999.
"I realized that maps are artifacts, that they're not only used in the way of telling stories or as metaphors in literature but also as objects," he says. "So I made a transition to studying material culture, too."
In addition to his faculty appointment in UD's Department of English, Brückner has a secondary appointment in the University's Center for Material Culture Studies.
He is the author of The Geographic Revolution in Early America: Maps, Literacy, and National Identity, published in 2006 by the University of North Carolina Press and winner of the Louis Gottschalk Prize.
During the summer, Brückner was the 2011 Research Fellow at the Social and Cultural Institute at Mainz University in Germany, where he studied the relationship of material culture, cartography and communication in the context of the Atlantic world between 1700 and 1900. His new book, Early American Cartographies, published for the Omohundro Institute in Early American History and Culture by the University of North Carolina Press, will be available later this year.