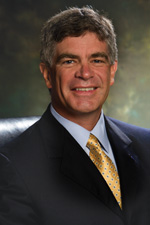 It's my pleasure to invite you into the expansive world of the arts and humanities at UD. "Expansive" is an appropriate word, because what these disciplines do — apart and, even more powerfully, together — is expand our understanding of our world, our histories, our perceptions and perspectives. They illuminate why we are who we are, and do what we do.
They give us a frame for contemplating and expressing our shared humanity, and considering our future against the backdrop of our past, our nature, our ideals and aspirations. In this way, the arts and humanities do more than provide texture to our lives, context to our explorations and nuance to our analyses; they help us integrate our knowledge and give us a better platform for designing effective solutions to persistent and pervasive problems.
The arts and humanities don't engage only with the world of ideas; they engage with the world. In debunking common myths about the misunderstood medievals, philosophy professor Kate Rogers redefines our early relationship with science and belief, which can inform our views about their intersection today. In excavating Egypt's ancient port of Berenike, archaeologist Steve Sidebotham dissects large-scale international trade from the first days of the Roman Empire, which can offer context to the modern global economy.
In archiving centuries-old samplers, history professor Ritchie Garrison and his team offer a glimpse into the intimate, largely undocumented lives of girls in Colonial and post-Colonial America—girls who would become the mothers of this young country. In portraying patients and family members with whom health sciences students interact, UD's theatre students are improving the communication that occurs in health settings, which ultimately improves the level of care patients receive. In helping Iraqis preserve their cultural heritage collections, UD's art conservators are building a bridge between two nations that need a bridge more than ever, strengthening our mutual understanding and, in the process, our national security.
I know you'll find in this issue of UD Research stories that give you a deeper insight into ourselves and each other, and illuminate how, through the millennia, we create and express this extraordinary human experience.

Patrick T. Harker
President, University of Delaware