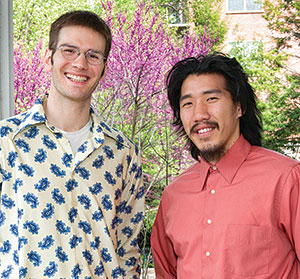 Timothy Edward Kilpatrick and Joey D. Kim won prestigious Goldwater scholarships to support their studies in biochemistry and chemical engineering, respectively.
The scholarship program, honoring the late U.S. Sen. Barry Goldwater from Arizona, encourages outstanding students to pursue careers in math, the natural sciences and engineering. It covers the cost of tuition, fees, books, and room and board up to $7,500 per year.
A student in the University Honors Program, Gilpatrick, from Nashua, N.H., learned of his recognition as a Goldwater Scholar during spring break while preparing buffer solutions in a Drake Hall lab. "My reaction was one of somber gratitude and joy, which may have included a small dance," he said.
Receiving the scholarship, he said, has "encouraged me to remain focused and to continue through the challenges of my education."
Gilpatrick's professional goal is to conduct research and teach at an academic medical center. His research interest is in analyzing signaling pathways of the immune system, which he said "has many applications, including vaccine development and the treatment of autoimmune diseases."
When he received the email notifying him of his selection for the scholarship, Kim said he "was struck with such an indescribable and incomprehensible emotion that I didn't know what else to do other than get on my knees and begin worshiping God with all that I am."
To Kim, who is from Irvine, Calif., being named a Goldwater Scholar "is a representation of the first major step toward achieving my career goals." He plans to earn a doctorate in renewable energy and become a research professor at a university "to have direct impact on both the future generation of engineers and the world of science."