La Tanya Autry has always felt a responsibility to share the results of her research on lynching memorials by giving public presentations in person and via social media, blogs and other formats.
Two summers ago, Autry was one of 12 graduate students who participated in UD's Public Engagement in Material Culture Institute (PEMCI), a two-week workshop in which they learned how to use accessible language and new digital technologies to involve and inspire the public in their research.
This past September, the doctoral student in art history further expanded her outreach skills through the 2011 Imagining America PAGE (Publicly Active Graduate Education) Fellowship program. One of 12 PAGE fellows selected nationwide, Autry attended a Fellows Summit and the Imagining America national conference in Minnesota.
The PAGE program partners new fellows with senior scholars to serve as mentors, as well as encourages peer mentoring among the Imagining America national network of colleges and universities. In addition, each fellow agrees to take part in a yearlong working group to promote collaborative art, teaching, writing or research projects.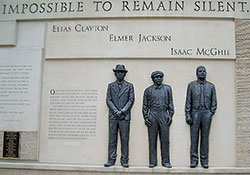 While studying for her master's degree in art history at UD, which she received in 2009, Autry became interested in the photographs and postcards that often were produced during lynchings of African Americans that occurred in America, primarily from the 1880s through the 1930s. Her research later expanded to encompass memorials created to commemorate these incidents of mob violence and to remember the victims.
Lynchings were horrific acts, she says, but the memorials tell an important story: "These memorials can be small or large, but if they're respectful of the history, then they can be a starting point for public education and discussion."