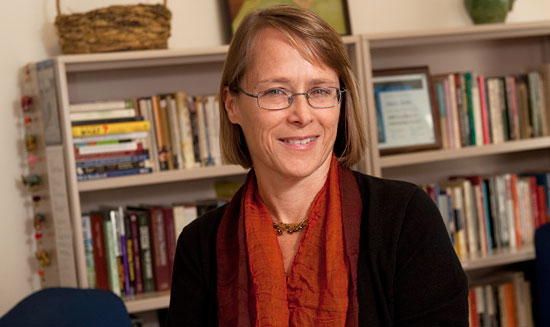 Are the humanities receding in relevance or undergoing a renaissance at universities? Ann Ardis, deputy dean of UD's College of Arts and Sciences and director of its Interdisciplinary Humanities Research Center, formed in 2009, believes that knowledge of the so-called "soft" disciplines is as essential to students as ever, and she argues that there's nothing "soft" about them. Here, Ardis shares her views and the center's approach to engaging both the academic community and the public in the humanities in new ways.
Profile: Ann Ardis
Hometown:
Livermore Air Force Base, California (Her dad was in the Air Force.)
Education:
Ph.D., University of Virginia
Roles:
Deputy dean, College of Arts and Sciences; Director, Interdisciplinary Humanities Research Center; Professor of English
Joined UD Faculty:
1989
Research Area:
Turn-of-the-Twentieth Century British and American print culture
Most Recent Article Published:
"Making Middlebrow Culture, Making Middlebrow Literary Texts Matter: The Crisis, Easter 1912," Modernist Cultures 6.1 (Spring 2011): 18–40.
How do you define "the humanities"?
The National Endowment for the Humanities (NEH) offers a very useful definition on their website that stems from the 1965 National Foundation on the Arts and the Humanities Act:
"The term 'humanities' includes, but is not limited to, the study of the following: language, both modern and classical; linguistics; literature; history; jurisprudence; philosophy; archaeology; comparative religion; ethics; the history, criticism and theory of the arts; those aspects of social sciences which have humanistic content and employ humanistic methods; and the study and application of the humanities to the human environment with particular attention to reflecting our diverse heritage, traditions, and history and to the relevance of the humanities to the current conditions of national life."
What I like best about NEH's definition is its inclusiveness, its acknowledgment that some social science disciplines also employ humanistic research methods.
I've seen discussions online debating whether the humanities — traditionally viewed as central to a student's education — have been relegated to the periphery, a set of so-called "soft" disciplines pushed aside by "hard" science research. What is your opinion?
It's certainly the case that "hard" science research and STEM [science, technology, engineering and math] education figure centrally in some current conversations both nationally and locally about critical priorities in GK20 education. But discussions are also being staged currently, in many different forums, about both the value of so-called "soft" skills — that is, cultural and historical understanding, language competency, and oral, written and digital communication skills — for a college graduate's success in a 21st-century global economy and the need to view humanities research as "fundamental" rather than "ornamental."
We don't need to look beyond our own campus to find eloquent, passionate advocates of humanities research and education. The humanities have been vital to student success ever since the Rev. Dr. Francis Alison founded the school in 1743 that would evolve into the University of Delaware. My phrasing about viewing humanities research as "fundamental" rather than "ornamental" is my colleague Matthew Kinservik's, and has been his mantra in his new role as interim associate dean for the humanities.
A comment that one of our recent Arabic hires made in her on-campus interview has always stuck with me as well: "You can't really understand what's happening currently in Iraq without knowing something about the long and complex history of Shi'a and Sunni Muslim relations." Cultural and historical understanding may be considered by some a "soft" skill; but that doesn't make such knowledge "ornamental."
I'd even contest its characterization as "soft." Anyone who's ever actually done research in the humanities knows that excellent work in these fields involves lots and lots of labor-intensive effort. From the design of research questions to the search for evidence (textual, archival, visual or object-based) to the formulation and publication of research findings: nothing's easy or "soft" about any of these activities. Research and discovery learning in the humanities are every bit as central to the mission of the University of Dela­ware's College of Arts and Sciences as research and discovery learning in the natural sciences, social sciences, and the arts. End of stump speech!
What is the purpose of the Interdisciplinary Humanities Research Center? How novel is it?
The center's mission is to:
Strengthen humanities research, enhance its visibility regionally as well as nationally, and provide support for multi-disciplinary collaborations and inter-institutional partnerships;
Support interdisciplinary teaching collaborations that bring cutting-edge research into the classroom; and
Enhance the University's public programming, thereby contributing to UD's over-arching goal of making the Newark campus a destination: an intellectually and culturally rich and exciting environment for students, faculty and the community.
Although every collaborative research or teaching project funded by the IHRC must have at least one humanities faculty member as a co-PI, we welcome collaborations across the disciplines and work closely in partnership with the University Museums to support programming that includes art exhibitions and makes the arts central to academic life.
The IHRC's emphasis on collaborative, multi-disciplinary research and teaching collaborations is somewhat unique. Many of the humanities research centers and institutes affiliated with the international Consortium of Humanities Research Centers and Institutes (CHCI) use most or all of their funding to support individual faculty projects; and many only fund humanities research. We've chosen instead, at least in this initial phase of programming, to set up internal grant programs to support multi-disciplinary collaborations. And it's been very exciting to see a whole host of new research and teaching partnerships take off, not only within Arts and Sciences, but also across colleges and in partnership with cultural institutions like the Philadelphia Museum of Art.
What kinds of opportunities will the center provide to students, faculty and the public?
In a certain sense, the three grant programs that the IHRC is running currently — for collaborative research, team-teaching, and visiting artists and scholars — function like "venture capital" funding: they are helping the College of Arts and Sciences jumpstart and incentivize interdisciplinary research and teaching collaborations while also creating opportunities to enrich campus life and academic programming through public lectures, international symposia and showcase events.
All of the current grant programs require faculty to propose, plan and stage a public event or performance related to their collaborative research and teaching projects. Such events may be designed primarily for an on-campus audience of faculty and students, or they may engage the general public and/or faculty and students at other colleges and universities. This commitment to public engagement isn't standard fare for humanities research centers and institutes around the country, but it's an aspect of the IHRC's activities that meets the College of Arts and Sciences' strategic goals especially well.