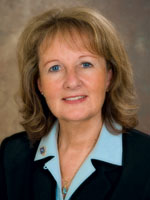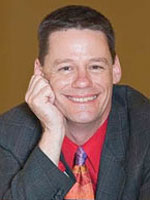 Rob Ellis graduated from the University of Delaware in 2003 with a psychology major and three minors: biology, cognitive science and music. His academic background might seem unusual, but Paul Head, chair of UD's Department of Music, believes that people like Ellis can help to connect the dots between disciplines as music becomes more entrepreneurial and medicine becomes more holistic.
As a first step in an evolving collaboration, Head and Kathleen Matt, dean of the College of Health Sciences, jointly led a session on the transformative power of music at the Salzburg Global Seminar in Austria this past April. The meeting brought together musicians, social change-makers, philanthropists, cultural policymakers and scholars to shed new light on ways to exploit music's instrumental value.
Karen Avino, assistant professor of nursing, is convinced of this value. "There is a definite connection between music and health," she says. "Helping people reach optimal health is about tapping into their innate healing abilities. Music is another tool in the health care practitioner's toolbox, and it gives us an added way to reach people, not just through the body but also through the mind and spirit. There is a growing awareness in health care of the need to understand the whole person by connecting all three of these facets."
While music therapy programs tend to target special populations such as children with autism or adults suffering from depression, Head sees the UD collaboration going in a different direction.
"Music is a universal language," he says, "and my interest lies in how it affects the brain and how we can use it to help the general population heal from injury and illness."
Head also sees new avenues for music majors in the future. "Not everyone is going to seek a position playing in an orchestra," he says. "I think we're looking at a new discipline — 'entrepreneurial musicianship' — where people are trained to use music to achieve a specific result. We want to better understand the 'chill factor' of a great piece of music so that we can harness that effect."
Matt and Head are planning a course to be co-taught by several faculty, with segments addressing various domains of music, from the metabolic to the psychological. "Co-curricular courses like this help us to attract talented students interested in the non-traditional connections between disciplines that we're trying to tap into," she says.
Ellis was one of those talented students, and he believes that UD offers the perfect environment for nurturing eclectic interests like his own. "The University offered me multiple options and outlets," he says. "I felt equally welcome in the Music Department and the psychology lab. I didn't have to give up one for the other — at UD, I could sing and do research."
Ellis went on to complete a degree with distinction, writing his thesis under the advisement of Prof. Robert Simons in the Psychology Department. He continued the research, which focused on the impact of music on measures of emotion while viewing films, at the Ohio State University, where he earned his Ph.D. in 2009.
Now a postdoctoral research fellow in neurology at Harvard Medical School, Ellis is using advanced imaging technology to better understand how music affects the brain. Applications for his work include the use of music to help stroke survivors regain lost language function and to restore normal gait patterns in Parkinson's disease patients.
"Rob is a perfect example of the student who wants to study music and comes to Delaware for the overall intellectual environment," Head says.
He and Matt believe in the transformative power of not only music, but also the scholarly environment at UD.
"When you have faculty who can think 'outside the box' and students hungry for experiential learning," he says, "lots can happen where music and medicine meet."