Story and Page: Input Format
Depending on what kind of content you are adding to your page, you can choose either "Filtered" or "Full" HTML.
Filtered HTML
Filtered HTML disallows many of the more obscure or possibly dangerous tags used in HTML programming. When copying html from other sites, this setting will pull out those unwanted tags for you, saving time and effort to manually remove them. As administrators, you are able to set what your content providers can and cannot use. To do this go to Administer > Site Configuration > Input Formats, and modify the settings to your liking. You can also decide what tags are allowed and which are dissallowed in this section.
Full HTML
Full HTML allows any tags to be present within a content page. This provides the most flexibility in coding, but can introduce problems with people who are not well practiced in the more obscure tag references.
If a content provider is able to access both modes of HTML coding, the input format menu will look like the following: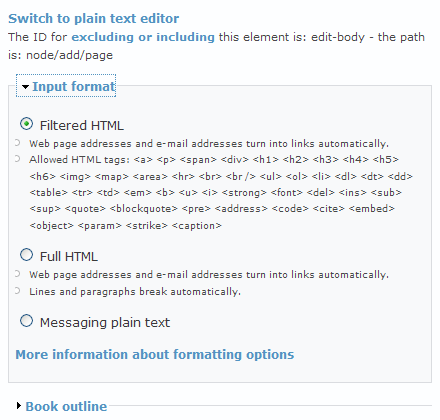 NOTE: Messaging plain text has been removed in the latest build of UDrupal.