In the company of women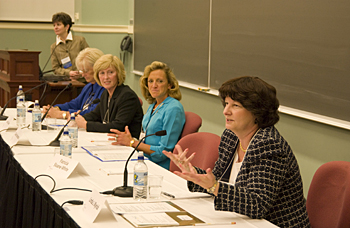 Click here for an audio podcast of this program.
6:30 p.m., May 11, 2008--Four Delaware career women at the top of their fields told an overflow crowd how they succeeded despite the gender bias they encountered along the way at the UD Forum panel "In the Company of Women: Women Leaders in American Business."
Moderator Patricia Sloane-White, UD assistant professor of anthropology, opened the session by introducing Michele Rollins, chairperson of Rollins Jamaica Ltd., the holding company for Rose Hall, Ltd.; Claire DeMatteis, partner and co-chairperson of the Government and Public Affairs Practice Group of the Stradley Ronon law firm; Linda J. Myrick, vice president and general manager_of Air Liquide Healthcare America Corp.-Scott Medical Products; and Sue M. Sears, vice president of global market development for the Kimberly-Clark Corp.
"This morning we are in the company of four extraordinary and remarkable women whose careers in business, law and entrepreneurship make them some of America's most respected business leaders," Sloane-White said, noting that the panelists would review their careers focusing on how they dealt with the gender bias that keeps women from filling more positions within America's corporate hierarchy.
While half the graduates from top business schools in the U.S. are women, Sloane-White said, only 16 percent are corporate officers at Fortune 500 companies and only 1.4 percent are CEOs. Women earn 60 percent of all master's degrees, 47 percent of all law degrees and fill 50 percent of the management and professional positions in this country, yet, even though the "pipeline is full," women at the top of their fields are still statistical anomalies. So, why is it so hard for women to get there, she asked the panelists.
"We never said the word sexual discrimination because your career was over, so what you did was to be better than the guy next to you," Rollins said. She always had big goals and as she moved up the corporate ladder, she said she realized companies weren't going to do anything to help women in the workplace until they were forced to.
"'We're not going to do it until they make us do it' permeates the corporate world," Rollins said. When she joined Sun Co. as the first female officer in a $6 billion company, she said she realized after a while that she was the "token" woman and they had no intention of letting her move up or make significant changes there. "Then, I did the absolute unthinkable--I got pregnant." When she returned from maternity leave after her second child, she quit Sun and joined Rollins Jamaica.
Sears said she began her career as a secretary with Scott Paper Co. and got her college degree while raising three boys. Since then, she has served as president of the Global Do-It-Yourself Business, an entrepreneurial retail arm of Kimberly-Clark, vice president of marketing for Unisource Worldwide Inc, a leading distributor of printing and imaging products, packaging systems and sanitary maintenance supplies in North America, with sales of $7 billion.
As vice president of global marketing development with Kimberly Clark, Sears said she is one of 11 women officers in the corporation of more than 60,000 employees. "I do feel that it is my mission to bring more talented women, more diversity, more people of color up in the organization because the world is very global and in order for us to be successful we need to represent our world in the types of employees and leaders we have in the corporation."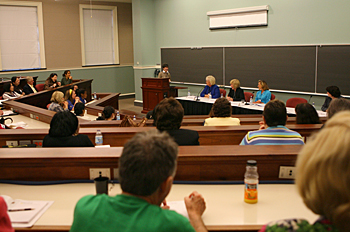 DeMatteis, served as senior counsel to U.S. Sen. Joseph R. Biden and on U.S. Rep. Mike Castle's staff when he was governor of Delaware and when he went to Congress. She said Biden asked her to join his staff as administrative assistant, but she recoiled at the title. "I'll take the job but not the title," DeMatteis said, so Biden asked her what she wanted to be called--senior counsel she said, and he said done. "It was at a time when things got done in Washington," she said.
"I personally feel we've turned the corner as women in business. At my law firm there are two-dozen attorneys on flex-time status [and] the majority of them are men. We have women mentoring circles. My firm created a leadership counsel."
Myrick began her career with Procter & Gamble as a product development engineer. She spent 20 years with FMC Corp., a diversified chemicals and machinery company, in positions of increasing responsibility, including general manager of FMC BioPolymer Pharmaceuticals, a global pharmaceutical ingredients business. In 2001, Myrick joined Rhodia Inc., a specialty chemicals company headquartered in France, as vice president and general manager of specialty phosphates, North America, and later was named vice president and general manager of home, personal care and industrial ingredients, North America.
Myrick said she resigned after 20 years with FMC when a man was given a promotion she felt she deserved,Her resignation was turned down and instead, she was given the job she wanted.
"I had to quit in order for them to do the right thing," Myrick said. "I hope when I come back 10 years from now it will be less unique for us to be up here talking about our careers."
Article by Barbara Garrison
Photos by Kathy Atkinson and Lane McLaughlin