Chairman announces gift in support of new initiatives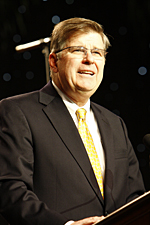 6:30 p.m., May 11, 2008--Howard Cosgrove, chairman of the University's Board of Trustees, opened the concluding program of the University of Delaware Forum by welcoming guests--particularly his fellow alumni. "It's always exciting to come back and re-experience this vibrant campus."
Calling it "a momentous day," Cosgrove said that President Patrick Harker's strategic plan for the University is "bold but attainable," and encouraged those in the audience to consider the roles they will play in helping the University achieve its goals.
"Pat is going to need the help and support of everyone in this room," he said, "and I know that he can count on your enthusiasm and your assistance."
Already, Cosgrove said, the University has received a major gift to support the president's initiative for arts, culture and community partnerships. A $1 million gift from the Howard W. Swank, Alma K. Swank and Richard Kemper Swank Foundation was received earlier in the week, he said.
The gift will create the Swank Neuro-Developmental Disabilities Program in UD's Center for Disabilities Studies, focusing on developing employment options for persons with neuro-developmental disabilities.