Students work to bring water to African village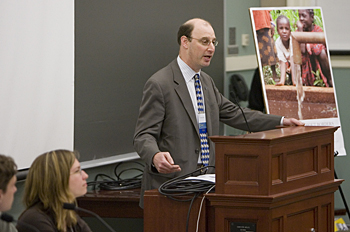 Click here for an audio podcast of this program.
6:30 p.m., May 11, 2008--Members of Engineers Without Borders (EWB), a UD student organization, related how their professional and personal lives have been enriched by their efforts to bring safe, affordable drinking water to the community in Bakang, in Cameroon, West Africa.
During the panel discussion, "Building Hope Across the Globe: Engineers Without Borders," in Gore Hall, Michael Chajes, interim dean of the College of Engineering, described the role of the service learning experience at UD.
"Students are the heart of the University," Chajes said. "Through service learning at UD, students engage in an active participation with a faculty member that combines academic curriculum in a partnership with the larger community."
Steven K. Dentel, professor of civil and environmental engineering, has been the faculty adviser for UD's Engineers Without Borders since its founding two years ago. Known as Dr. Steve to the EWB students, Dentel said that "students really want to use what they are learning and to get involved in helping others."
This involvement, Dentel said, includes designing and implementing sustainable solutions to problems in developing communities.
"The students drive the projects, they bring the energy and they know what they want to do," Dentel said. "This kind of service learning project also provides students with a chance to reflect on their experience on a personal level."
Project manager Julie M. Trick, a senior engineering major from Dayton, Ohio, helped establish the EWB chapter at UD in the spring of 2006.
"There are 1.1 billion people without access to safe drinking water and 2.4 billion people who do not have adequate sanitation," Trick said. "We wanted our project in Cameroon to be owned by the community because it is only by community involvement that such a project will be sustainable in the long run."
Trick said that while the project will continue to present challenges on all kinds of levels, the experience was one that will continue after she graduates from UD.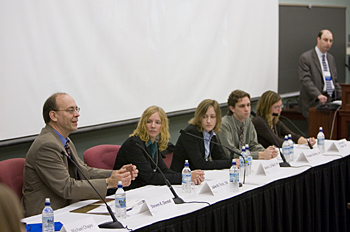 "I will never forget the smiles on the faces of the kids in the village who wanted to help us," Trick said. "I could not believe they could be so excited, but then I realized it was because they got to contribute to the project. This is what EWB is all about."
Douglas DeVoto, a senior mechanical engineering major with a concentration in aerospace and a minor in sustainable technologies, participated in the chapter's second site assessment trip to Cameroon in January.
"We wanted to make the dream of providing safe drinking water a reality for the community," DeVoto said. "We eventually hope to build six slow-sand filtration systems and a solar-powered pump system. This is all about community contribution and ownership."
Sarah L. O'Neill, president of the EWB-UD chapter, is a junior mechanical engineering major with a minor in sustainable energy technologies and political science. A participant in the first site assessment, she will be returning to Cameroon in June for the group's first implementation trip.
"We are now two years old as a chapter and about to go on our first follow-up trip. We learned a lot by talking to students and professors," O'Neil said. "We made a promise to bring clean water to the community. We do it because we love it."
Samantha Sagett, a junior environmental engineering major with a concentration in water quality and water resources and a minor in civil engineering, is project manager for the Cameroon site and also will return for the first implementation trip in June.
"This is a win-win experience. The community benefits and we gain technical and life experiences," Sagett said. "We learned that every drop of water counts."
Article by Jerry Rhodes
Photos by Kathy Atkinson and Lane McLaughlin