Alternative energy key to powering America's future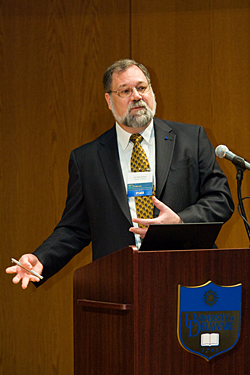 Click here for an audio podcast of this program.
6:30 p.m., May 11, 2008--Every day at the gas pump, in the grocery store, and at home, Americans are being hit with the higher cost of energy. If only there were a "silver bullet" solution to our energy needs.
But there is none.
Expanding the world's energy supplies while reducing greenhouse gas emissions in the face of global warming will take a combination of sources and approaches, not to mention innovative research, new energy policies and public will, concluded the panel on "Challenges and Opportunities in Alternative Energy."
"Energy is one of the grand challenges of our time," said panel moderator Mark Barteau, the Robert L. Pigford Chair of Chemical Engineering, director of the UD Energy Institute, and co-chair of the University's Strategic Planning Committee. This July, Barteau will take on the new post of senior vice provost for research and strategic initiatives.
The world currently uses 400 quadrillion BTUs ("quads") of energy per year. The United States consumes one-quarter of the total. Every day, the U.S. uses 20 million barrels of oil, 60 billion cubic feet of natural gas, and 3 million tons of coal.
By 2100, the world will need three times the current energy production, and at a third of current carbon dioxide emissions.
"We need not only to develop new resources, but those that do not add more CO2," Barteau said.
Energy efficiency and conservation offer the best payback, he said. Each barrel of oil saved puts about a hundred dollars in our pocket and prevents about a thousand pounds of carbon dioxide from going into the atmosphere.
William Provine, Ventures Development Manager for DuPont Biofuels and DuPont Biosciences and a UD alumnus, said the company is looking at biofuels as one near-term solution to energy needs.
The predominant sources of ethanol include sugar cane in Brazil and corn in the U.S.
DuPont also is working to turn "stover," the cornstalks and cobs, into biofuels.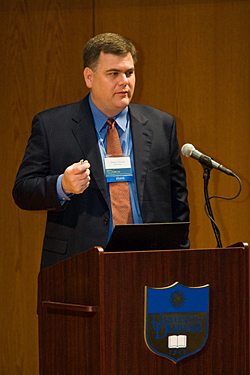 "Ethanol is a solution, but not the best solution," said Provine, who received his doctorate in chemical engineering from UD in 1992.
"We need to make better biofuels than ethanol. We need to set up the infrastructure to get to the next level."
Christiana Honsberg, associate professor of electrical and computer engineering and director of UD's High-Efficiency Solar Power Program, keyed on photovoltaics--devices that convert sunlight into electricity.
If the total energy of the Earth were represented as the height of the Empire State Building, total energy demand would be the height of a person and solar energy use would represent the thickness of a dime.
"So we need to tap it," she said.
With higher efficiencies, the industry's steady growth, research on energy storage when the sun is not shining, and increased public education, Honsberg said that photovoltaics can meet the U.S. energy demand--if not the entire world energy demand--in 50 years.
Willett Kempton, associate professor of marine policy at UD, discussed the potential of offshore wind power. The largest offshore wind farm in the world has been proposed for off Rehoboth Beach and has been the subject of ongoing debate.
"We could run the entire East Coast off of offshore wind," Kempton noted.
Producing the 185 gigawatts of power needed to meet the energy needs of Massachusetts to North Carolina would require 93,000 wind turbines. A typical turbine is 260 feet high.
"Could we do this by 2050?" Kempton asked. "Have we ever done this before--created large cylindrical structures with propellers?"
With a slide of a B24 Liberator from WWII as a backdrop, Kempton noted that in 1939, the U.S. produced 2,000 aircraft. In 1944, the U.S. produced 96,000 of the planes.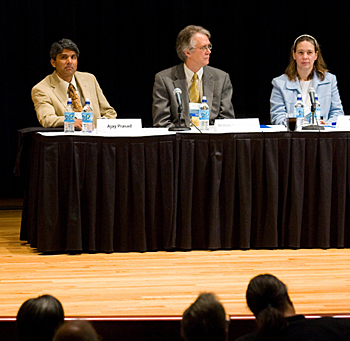 "If we put our minds to it, we can actually do it pretty quickly," Kempton said.
Ajay Prasad, professor of mechanical engineering and director of UD's Fuel Cell Bus Program, introduced the audience to the fuel cell, a technology that operates on hydrogen and oxygen and produces only water as a byproduct.
"It's fair to say it's a zero-emission device," Prasad said.
However, there are several barriers to fuel-cell use. The platinum in them costs $2,000 per ounce. There also is a lack of infrastructure for producing and transporting hydrogen.
UD is leading research efforts, having received its first fuel cell bus last April, with a second due this summer, and a third next summer. The current bus runs from 10 a.m. to noon on campus and is refueled at a hydrogen filling station at Air Liquide south of Newark.
In concluding the panel, Barteau said, "There is no silver bullet. We need a variety of techniques to address the nation's energy challenges.
"I leave you with this question," he said. "Do we in this country have the commitment, and is failure an option?"
Article by Tracey Bryant
Photos by Kevin Quinlan