Corporate governance panelists assay changing roles of boards of directors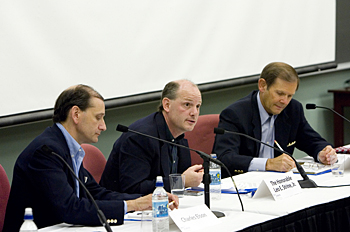 Click here for an audio podcast of this program.
6:30 p.m., May 11, 2008--The power in American corporations has shifted over the years from the CEO and other top managers to the boards of directors. Now, it is shifting again --this time to the shareholders.
Exactly how much it's shifting and what that means was the subject of a lively debate among participants at the University of Delaware Forum's panel discussion titled, "Corporate Governance: Where We Have Been, Where We Are Going." The three panelists agreed that corporate governance--the processes and policies by which companies administer and control themselves--has undergone numerous changes in recent years and is undoubtedly facing more.
"Where we have been in corporate governance is pretty straightforward," according to panel moderator Charles Elson, the Edgar S. Woolard Jr. Chair in Corporate Governance and director of the John L. Weinberg Center for Corporate Governance at UD. "Where we're going is not so clear."
Elson began the discussion by outlining some of the history of corporate governance in the United States: Boards of directors originally were made up of a company's largest investors, who had the most at stake in the company's future. As companies grew and needed more and more capital, single investors owned proportionally smaller shares of the company, and the board lost its monitoring function. By the 1990s, corporations began re-creating their boards in a way that brought back the oversight and monitoring role.
Elson said most companies were doing fairly well with restoring that role, but, "Then came Enron...the watershed event of corporate governance." When the giant company failed in 2001 in the wake of its massive accounting fraud, corporate reforms were initiated, including the 2002 Sarbanes-Oxley Act, which requires new or tighter standards for boards of directors as well as accounting procedures.
An even more recent phenomenon, Elson said, has been "the rise of the activist investor," or shareholders pushing for reforms in the structure of the board or such other items as compensation and incentives. He added that, in the past couple of years, those activist investors often have come from hedge funds, which buy large portions of companies and seek to change not just the structure of the board but also how the company does business.
Panelist John Krol, former chairman and CEO of DuPont, told the audience that he's served on nine corporate boards of directors in the past 18 years and has seen many shifts in philosophy and power in corporate governance. With the recent move toward activist shareholder power, he said, the latest shift may have gone too far.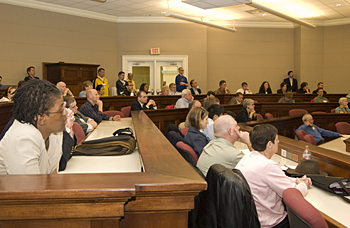 He pointed out that a board has fiduciary responsibilities but also has liability that shareholders do not. As a result, he said, directors must exercise their expert judgment about what is best for a company at a particular time even if some shareholders disagree.
Overall, Krol said, Sarbanes-Oxley and other recent reforms have resulted in positive changes in recent years, including higher-quality boards and directors. But too often, he said, investors have "a short-term focus...almost like renters" whose ideas may not be good for the company's long-term success. Boards, which can't necessarily be run like democracies, are now wrestling with finding the proper balance between directors' expertise and shareholders' wishes.
The third panelist, Leo Strine Jr., a UD graduate and vice chancellor of the Delaware Court of Chancery, regarded as the nation's premier business court, said that a much larger percentage of Americans are investors today than they were in the past. Many, investing for their retirement or to pay for their children's college educations, choose mutual funds with a fund manager and so are not involved in following individual stocks themselves, he said.
"Many more people today are investors, but they aren't activist investors" the way institutional investors often are, he said. Those activists sometimes push an agenda of their own on the board and, too often, directors go along with it in order to retain their seats on the board, Strine said. He agreed with Krol that directors must find a way to balance interests and protect those individual investors who are saving for the long term.
Strine also pointed out that some U.S. companies, such as General Motors, have financial problems attributed to pension and health-care expenses. He said critics should remember that these companies are honoring their commitments to workers and retirees in a way that many others are not. He noted especially that in other countries, governments bear health-care costs, freeing businesses from those expenses.
Article by Ann Manser
Photos by Kathy Atkinson and Lane McLaughlin