Future of public education highlighted in morning panel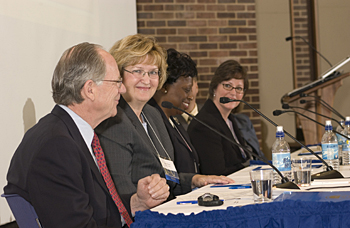 Click here for an audio podcast of this program.
6:30 p.m., May 11, 2008--Public education and its shifting needs took center stage Saturday morning, May 10, at Purnell Hall, as Delaware educators and policymakers weighed in on its future in a panel discussion moderated by Nancy Brickhouse, professor and director of UD's School of Education.
The panel on "The Future of Public Education" included U.S. Rep. Michael Castle (R. Del.); Nancy Wilson, chairperson of Delaware's Charter School Accountability Committee and state representative of the No Child Left Behind Act; Lillian M. Lowery, superintendent of the Christina School District; Sharon Walpole, assistant professor of education at UD; and Michael Gamel-McCormick, interim chairperson of the Department of Individual and Family Studies and director of UD's Center for Disabilities Studies.
"The University of Delaware is committed to the improvement of public education," Brickhouse said in her opening remarks, addressing an audience of approximately 150 UD alumni, students, faculty, administrators and Delaware educators. "The University also is committed to preparing future teachers, with approximately 10 percent of its undergraduates enrolled in the teacher education program and approximately 650 graduate-level students, who are either preparing to become educational professionals or seeking some sort of advanced training.
"As you can see, we've brought together individuals with wide experience and expertise, from classrooms to schools to districts to state to the nation," Brickhouse said, after introducing the five panelists. Before turning the panel over to Castle, Brickhouse made the point that while reform efforts tend to favor bold policy solutions to educational problems, educators are often more reluctant to embrace sweeping moves that they consider to be "from the top down."
"This is with good reason," she said, "because history has shown that 'from the top down' policies rarely reach the [classroom] in ways that substantially and sustainably improve outcomes of students. Teaching practices are very cultural and very hard to change and ultimately determined by teachers in classrooms. So I've asked the panelists to address this challenge," Brickhouse said.
Castle opened his remarks by saying that whenever education comes under scrutiny, teachers typically bear the brunt of responsibility for under-par student or school or district performance. "I really think that ...we ought to be thinking a little more broadly than that."
Castle emphasized the importance of early education programs, including intervention programs for lower-income families, as well as his wish that a national graduation standard be implemented to replace the current state-by-state sanctioning.
"I'm a great believer in early education," he said. "But I think that dropouts begin at age 6 rather than age 16, and at some point we should look at national assessment standards for graduation."
Wilson spoke next, opening her remarks with an enthusiastic outlook. "It's a wonderful time in public education," she said. "It's a challenging time and there's a lot going on."
Wilson, like Castle, emphasized the importance of early childhood education and its impact on future scholastic success. "Some might ask, "What's the big deal about daycare and our schools?" she said. "But the reality is, if we don't do a good job during those first years, it's very hard for students to catch up."
She concluded her remarks by addressing the importance of collaborative relationships and mentioned UD's Early Learning Center and programs spearheaded through the Center for Disabilities Studies as successful collaborative efforts.
Lowery addressed concerns about high school curriculum and dropout rates.
"The high school concern is not just a high school concern," she said. "It is a pre-kindergarten through high school concern," she said.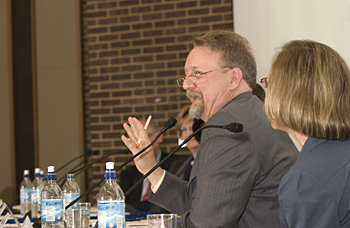 Lowery talked about the need for systemic change and cited some successful programs geared to students deemed at-risk and said that the push for programs like these had to be continuous.
"You can go into any high school and find pockets of success," she said, "but that's based on leadership and vision, and what we've got to do if we are to get better as a state is implement systemic change."
Walpole spoke about the right of every child to be inspired by learning. "I think it's a civil rights goal that a child come to school every day and learns something new. That means that teachers are charged with an extremely difficult task."
Walpole touched on the increasingly diverse population of students in public schools and made the point that rapidly changing demographics demand flexibility and openness to policy changes. "I work very hard to make sure that [systemic school-life] projects include choice and voice for the local leadership, because I know that the leadership team that's in the building is the leadership team that's going to make the difference."
Walpole concluded by praising UD's collaborative role in public education. "The University's role in these very complicated issues is knowledge generation," she said, "but we have to generate this knowledge by getting our hands dirty in real schools, and that's a very tall order."
Gamel-McCormick opened his comments by saying that public education has changed drastically in the last two decades.
"Teachers are different from 20 years ago," he said. "They have changed radically and blackboards and chalk are old concepts. We now have a lot of technology and a lot of new knowledge to put into place that is not equally accessible and not across all of our schools; and part of our job as a University is to help that take place."
Gamel-McCormick stressed the importance of providing accessible education to all children and said not doing so hurts society.
"The United States, as a society and culture, believes that every single one of our children should be educated and is important to educate, and it is essential that we make a dedicated effort to reach them," he said. "That means that children who have severe disabilities all the way up to children who are gifted have a right to a dedicated education."
The session concluded with panelists fielding questions from members of the audience.
Article by Becca Hutchinson
Photos by Duane Perry