UDconnection.com lets alums stay in touch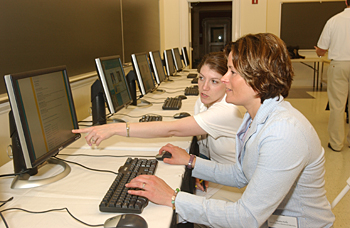 6:30 p.m., May 11, 2008--Attention Blue Hen alumni--now is the time to join UDconnection.com, the new online UD community and Alumni Relations Web site, and be connected to UD classmates and friends, get UD news and stay involved with the University.
Sponsored by the UD Alumni Association, UDconnection.com was officially launched at the University of Delaware Forum on May 10. Alumni who attended the forum were invited to register in Gore Hall and to receive a UDconnection.com travel mug.
An invitation to join will soon be sent out to all alumni, with information about registration and a special offer for the first 500 registrants.
UDconnection.com allows each alum the opportunity to update contact information and to control what is displayed in the online directory on his or her personal profile page. Alumni can view and post class notes and photos from other Blue Hens, send e-mails to old friends and classmates using blind e-mail, which does not reveal others' e-mail addresses through a password-protected site only for UD graduates.
"We are very excited to offer alums the opportunity to stay connected with each other and the University through UDconnection.com," said Lauren Murray Simione, assistant director of alumni relations.
"The alumni office gets requests daily from alumni looking for UD friends and classmates and our new online community is a great way to reconnect. It's a way for alumni to stay connected with each other and UD--through class notes, personal profile pages and information posted on the chapter and affinity pages within UDconnection.com," Simione said.
For more information and to learn how to register, visit [www.UDconnection.com].
Article by Sue Moncure
Photo by Duane Perry