Amateurs try playing Wall Street at a demo of UD's new Exelon Trading Center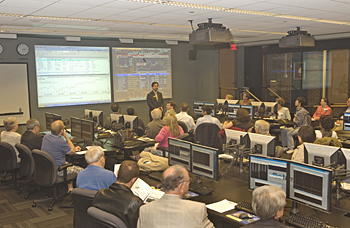 Click here for an audio podcast of this program.
6:30 p.m., May 11, 2008--So many UD alumni, students, faculty and staff signed up for the demonstration "Playing Wall Street: Demonstrating UD's New Exelon Trading Center" that the presenters had to start a little earlier then planned and do two sessions instead of one.
Conrado (Bobby) M. Gempesaw, dean of UD's Alfred Lerner College of Business and Economics, served as the moderator for the sessions.
"Welcome to Exelon Trading Center. This is where Hollywood intersects academia," Gempesaw joked as participants crowded into the trading center in Purnell Hall, some at desks equipped with computers and some in chairs along the sides of the trading floor, waiting to take their turn at one of the work stations.
"The place that you are in is exactly what a Wall Street trader would be facing when they work in New York or Chicago," Gempesaw said, "The only difference is that you, and we, cannot trade real money when you're in this room."
Gempesaw said that "less than 5 percent of business schools in the country have a facility such as this, and we would like to claim that our students and our faculty now have the edge in the market place because of the Exelon Trading Center."
Gempesaw then turned the session over to Richard Holowczak, the director of the Bert W. and Sandra Wasserman Trading Floor and Subotnick Financial Services Center, Zicklin School of Business, Baruch College, City University of New York.
"The tools and the software and the technology that surrounds financial training and financial institutions is not the average, everyday piece of software that you might use at home," Holowczak said. "The software is intended for a professional who does these things 250 trading days out of the year. So our goal is to try and take these relatively complex pieces of technology and put them in the hands of students and faculty and researchers here at an institution where they can learn and get deeper and deeper in their knowledge."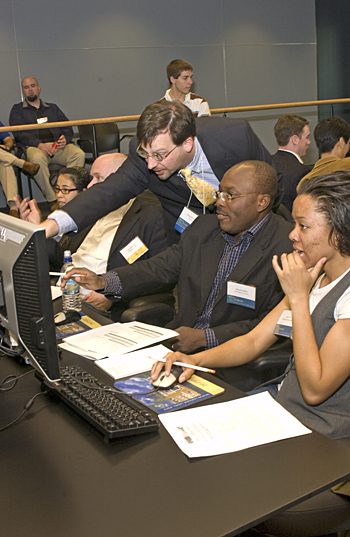 After talking briefly about how traders go about buying and selling stocks and explaining how analysts do their jobs on Wall Street, Holowczak told the attendees that they were going to be trading the fictitious stock GTT amongst one another.
During the trading exercise, each participant was instructed to confer with a partner sitting next to them at a workstation to determine which analyst's information was correct, and, based on that information, decide when to buy and when to sell their GTT stock.
Holowczak then went over some Wall Street terminology, such as shorting a stock--which is selling a stock at a high price and then buying that same stock back at a lower price. He referred to a large market order as "sweeping the book, or walking the book where you will consume a large number of shares out of the market place and that will make the price fall or rise drastically."
The decibel level increased sharply as the "trading" began and all the participants in the room became immersed in the fictitious buying and selling of GTT stock. When one team placed a huge order, it evoked an audible gasp in the room.
At the conclusion of the first 10-minute session, trader No. 1 had accumulated nearly $40,000, and trader No. 6 had lost an equally staggering amount of fake money.
Article by Adam Thomas
Photos by Duane Perry