'From Kuala Lumpur to Katrina' in arts and humanities education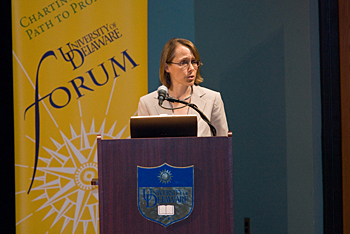 Click here for an audio podcast of this program.
6:30 p.m., May 11, 2008--The UD Forum panel "From Kuala Lumpur to Katrina: Arts and Humanities Education in the 21st Century" showcased the University's leadership initiatives and excellence in musical and theatrical performance, service learning, global education and humanities research.
Moderator Ann Ardis, professor of English and associate dean in UD's College of Arts and Sciences, began the panel discussion with a brief overview of initiatives under way at UD and introduced the departments represented in these programs.
"These initiatives are already heading us well down the path toward greater prominence in the arts and humanities," Ardis said. "They make the classroom more exciting, play a key role in the globalization of this campus and help bring the world home to Delaware."
Patricia Sloane-White, assistant professor of anthropology, reflected on a class where students at UD used video conferencing technology to create real-time interactions with students in Kuala Lumpur, Malaysia.
"With the use of this technology, we can teach students from vastly different cultures about each other's worlds," Sloane-White said. "By talking to one another rather than to a professor, these very different groups of students can connect and find that they are somehow very much the same."
Deborah Alvarez, an assistant professor of English, reported her findings on Hurricane Katrina's effect on the writing and literacy habits of New Orleans schools in the areas of greatest need. She also discussed her service learning trips to New Orleans with some of UD's McNair Scholars and English education student teachers.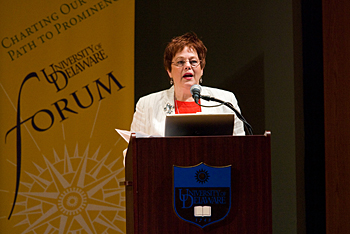 "Trauma affects literacy habits, and teachers need to be part of the disaster management team to help rebuild a sense of community," Alvarez said. "UD's student teachers help on these trips by reaching out to those in need and spreading the knowledge of their struggle."
Rosalind Johnson, the director of UD's Arts and Humanities Summer Institute, described the new program's efforts to introduce minority and underrepresented students to UD's graduate programs in the arts and humanities.
"The Summer Institute extends the opportunity to get into UD's graduate programs to students who otherwise would not apply," Johnson said. "Hopefully, the program will help to create a more diverse graduate student body."
Joyce Hill Stoner, director of the preservation studies doctoral program, talked about UD's recently acquired $500,000 Challenge Grant from the National Endowment for the Humanities to help enhance graduate education in and public engagement with American material culture studies.
"UD holds an international reputation for the interdisciplinary study of material culture," Stoner said. "This grant will help support UD scholars as they continue to expand our understanding in this field."
Sanford Robbins, artistic director of UD's Professional Theatre Training Program, spoke via video presentation about the future of the program at UD and announced the addition of the Resident Ensemble Players.
"The establishment of a resident acting company will not only increase the quality of undergraduate courses in theatre, but it will also allow us to continue our reputation as a nationally important force in the performing arts," Robbins said.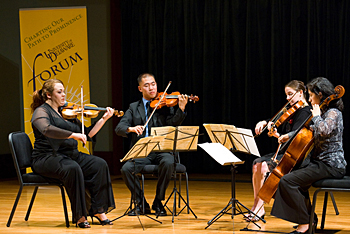 Xiang Gao, world-renowned violinist, associate professor of music and director of the Master Players Chamber Series at UD, discussed the Department of Music's programs.
"We provide our music students not only with solid music training but also with rare opportunities to be inspired by world-class musicians and performance right here in Newark," Gao said. "Performances by groups such as those in the Master Players Chamber Series bring the name of UD to other parts of the world in their travels, promote music as the universal language of our planet and help to encourage and motivate the next generation of great musicians."
Gao then introduced the Graduate String Quartet, which performed the final movement of Franz Schubert's String Quartet in A Minor to conclude the panel.
Article by Nicolette Blubaugh, AS '08
Photos by Kevin Quinlan