6:00 p.m., May 31, 2003--A festive and early arriving crowd of more than 21,000 filled Delaware Stadium for the University of Delaware's 154th Commencement on Saturday morning, May 31.
Families and friends cheered, waved and held up handmade signs as the Class of 2003 wound its way onto the lush green grass of the stadium wearing the traditional deep blue gowns, many adorned with the colors of nations visited through UD's active Study Abroad program, and mortarboards, some decorated with initials, messages and toys for easy identification from the stands.
UD conferred an estimated 4,794 degrees during the ceremony, held under skies alternately sunny and cloudy, with rain falling only toward the close of the festivities. Of those, 3,851 were bachelor's degrees, 778 master's degrees, 155 doctoral degrees and 10 associate's degrees. The total reflects all degrees completed since last May's ceremony.
UD President David P. Roselle welcomed the graduates, reminding them of their New Student Convocation ceremony just four years ago. "I talked then about the confidence that I had in your ability to make better lives for the people of our world and, indeed, many of you already have gotten off to a good start with that," he said.
Roselle noted that the Class of 2003 has representatives of 44 states and 47 nations and drew attention to a colorful display of flags celebrating the role that UD benefactor Pierre Samuel du Pont played in establishing the Delaware Junior Year Abroad Program, the first program of its kind in the world.
"Delaware continues to rank among the top universities with study abroad programs," he said, asking graduates who had studied internationally to stand.
Roselle said the graduating class features "a wealth of diversity and interest greater than any before you," noting that its members range in age from 20 to 72, the oldest being
Elizabeth Kuchta Melnik
, who earned a bachelor's degree in nursing.
Roselle remarked about UD's history, noting a special bond to the first graduating class of the University's predecessor institution, the Academy of New London begun by Francis Alison. "The first class of 1743 was a special one indeed, having three signers of the Declaration of Independence among its students," he said. "Your class, by all standards, continues that legacy of achievement with the graduation today of a descendant of George Read, a signer from Delaware and one of the members of that first class." That student is Will Davis of New Castle.
This year's graduates had lived through an extraordinary year, Roselle said, one that "fell in the shadow of the tragic events of September 11" and saw the nation at war in both Afghanistan and Iraq.
"It was a year for us to reflect, for our patriotism to be reawakened and for our commitment to be renewed," he said, taking a moment to honor the 43 UD students and five employees who put their academic and professional careers on hold as their Reserve and National Guard units were called to active duty.
Roselle gave the graduates a thought for the day, telling an anecdote about Abraham Lincoln. When asked by a Northern supporter why he didn't characterize Southerners as evil and as an enemy that must be destroyed, Lincoln replied, " Am I not destroying my enemies when I make friends of them?"
In a lighter vein, Roselle noted that for eight graduates, May 31 was not just Commencement but also a birthday. "Chris Carrabba, Robert Chase, Mike DeMartino, Elizabeth Franzen, Rosemary Kowlaski, Jessica Polk, Tom Toddy and Annette Sanchez are happy that this large crowd was able to attend their birthday party," he joked.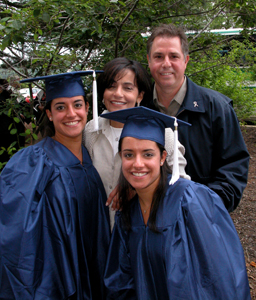 Twins Lauren (left) and Jenna DeCaro with their parents Bob and Ginny DeCaro.
"Today is a doubly happy day" for six families–the Franchetti, DeCaro, Dove, Cottman, Schumacher and Sullivan–who had twins graduating, Roselle said, as the crowd let out a collective "ahhhh." The six sets of twin graduates are Matthew and Thomas Franchetti of Erial, N.J.; Jenna and Lauren DeCaro of Wyckoff, N.J.; Amber and Dawn Dove of Temple Hills, Md.; Eric and Kevin Cottman of Wilmington; Jennifer and Joanna Schumacher of Hockessin; and Charles and John Sullivan of Chalfont, Pa.
Roselle noted that the graduating class includes 25 Smith families, 20 Johnson families and 16 Brown families.
"All of you bring your own set of identifying characteristics and experiences to this celebration today," Roselle told the graduates. "All of you set forth today on a path even more remarkable than the one that brought you here. All of you will meet challenges, and we want you to face them with the tools you have acquired here and to make better lives for yourselves and the people of our world."
That last phrase was a fitting segue as Roselle turned the podium over to U.S. Sen. Joseph R. Biden Jr., himself a UD graduate, who introduced the Commencement speaker, former
U.S. Sen. George J. Mitchell
who gained distinction as a diplomat and international peacemaker.
Following Mitchell's address and the presentation to him of an honorary UD degree, Roselle recognized Todd Macbeth and Sarah Lyman, co-chairs of the
senior class gift
committee, who presented the University a check for more than $13,000 to support a Sept. 11 memorial tribute.
Delaware Gov. Ruth Ann Minner then took the podium to
honor graduates
Karen Brown, Matthew Buckley and Christopher Eller for earning perfect 4.0 cumulative grade point averages.
Following the conferring of degrees, UD Alumni Association President Thorpe Moeckel welcomed the graduates into membership, which now numbers more than 120,000. "You are joining a distinguished group of individuals who are involved with every human endeavor worldwide," he said.
End of year energy
As always, Commencement week brought a special energy to Newark, with creative "thank you" signs sprouting on buildings and proud parents filling the community.
That creative energy spilled over into Delaware Stadium on Saturday, as students decorated their mortarboards with American flags, toys, ribbons and messages, such as "I finally did it!" and "I'm so smart!" One elaborate mortarboard read: "Much love always forever UD."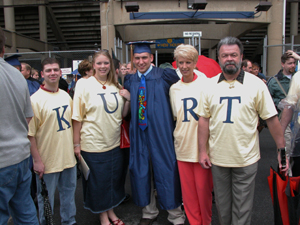 Kurt Zed Worney with member of his extended family who wore T-shirts spelling out "Congrats Kurt."
Not to be outdone were the parents and friends. One section wore special yellow T-shirts, the fronts of which bore letters spelling out: "Congrats Kurt."
Others waved signs, balloons and pom-pons.
Parting thoughts
Waiting nearing the graduating student holding area prior to Saturday's event, Michelle Goulet, a 40-year-old French civilization graduate from Ridley Park, Pa., said her main feeling was one of "accomplishment."

Goulet worked toward her bachelor's degree for 11 years. "It took a long time, but I stuck with it," she said. "Now I am ready to get on with my life." She is hoping to work for a French language airline, either Air Canada or Air France.

Adrian Hartwig of Newark, who studied theater production, said she was "excited, yet nervous. I'm still kind of in shock that I'm actually graduating. It's like, 'Wow! I've finished!'"

She is preparing for a summer internship working with the Shakespeare Theatre of New Jersey on the campus of Drew University and said she hopes to make a career in theatre. However, she said her true goal in life is to "be happy."

Jim Knight, also of Newark, was waiting to receive a bachelor's degree in biological sciences education. "This is kind of exciting," he said. "I think of all the things that have happened the last four years, a lot of friends and a lot of good times. I'm kind of sad to see it come to an end. On the other hand, it is time to move on to a new challenge."

That challenge will be teaching, a profession he chose through the inspiration of a high school science teacher.
Article by Neil Thomas