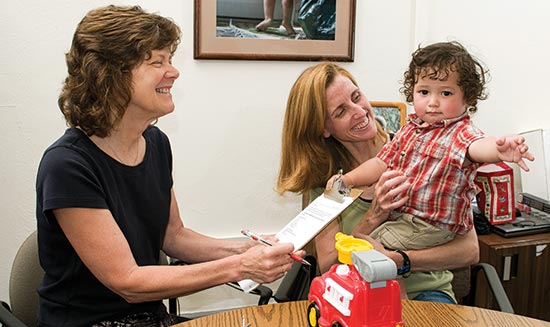 The young mother sits in front of her house as her toddler darts across the wooden floor of the narrow porch. Abruptly, he slips, falls and screws up his face to begin to cry.
The mother hesitates for a brief moment, then swoops in and picks up the child, offering a big hug and some soothing words.
Immediately, the woman sitting on the porch with her responds: "That was great, the way you went to him and comforted him." In the hour she will spend with the mom that day, she'll make other encouraging comments as many as 50 more times.

That's because the woman commenting on the mother's actions isn't a visiting friend or relative who stopped by for a chat. Rather, she's working with Prof. Mary Dozier of the University of Dela-ware on the Infant Caregiver Project, a long-term initiative to develop, implement and assess the most effective ways to improve parenting skills. Dozier, who is the Amy E. duPont Chair in Child Development in the Department of Psychology and principal investigator on the caregiver project, explains what is happening on the video that was recorded on the porch.
"We work with several types of parents, including parents adopting internationally, foster parents and high-risk birth parents," Dozier says. "We train a parent coach to provide in-the-moment comments and feedback on everything the parent does related to one of our three intervention targets — nurturance, synchrony and delight.
"We don't do this in our office; we go to the parents' homes, because we want this to be part of their actual lives."
In 18 years of work on this topic, Dozier has developed an intervention program for caregivers she calls "ABC," for "Attachment and Biobehavioral Catch-up." ABC is designed to help caregivers interact in ways that will help infants and young children translate what they experience into information they can use to regulate their thoughts, emotions and behaviors — an ability that psychologists refer to as "self-regulation."
Typically, a member of Dozier's research team visits a family for 10, one-hour coaching sessions in which the ABC coach offers extensive feedback on the caregiver's actions. The comments applaud the parent's behaving in nurturing, synchronous or delighted ways, or help to identify missed opportunities. That kind of nurturing behavior and synchronous behavior might seem as if it should come naturally to parents, but Dozier points out that a number of things can get in the way.
"Sometimes, parents may not notice their child's bids for attention, or they may respond in a way that is 'teachy' rather than following the child's lead," she says. "We encourage the caregiver to follow the child's lead and share the child's delight in things."
The results of the ABC intervention have been seen in randomized clinical trials, Dozier says, with 10 sessions enough to make a significant difference in the caregiver's interactions with the child.
"It's self-perpetuating," she says. "A parent will show interest in what the child is doing, the child lights up and the parent lights up."
The Infant Caregiver Project initially focused on the foster care system in Delaware, with Dozier studying young children who had experienced adversity and challenges in their birth homes and in foster care. She developed the ABC intervention system and began implementing and testing its effectiveness with foster parents.
Later, in 2006, she received a $3.3 million grant from the National Institute of Mental Health to conduct a five-year study focusing on the same kinds of skills and services for high-risk birth parents in Philadelphia. Working with the Philadelphia Department of Human Services, which identified parents who were at risk for neglecting their children, Dozier began offering the ABC intervention and assessing its short-term and long-term outcomes.
The birth parents were considered high risk for a number of reasons, including histories of drug or alcohol abuse, homelessness or prior neglect of their children.
"Some people would say that you should work on these other issues before you address parenting skills," Dozier says. "But I would say that you can't wait to fix the parenting issues because the child can't wait — the child needs a parent who is nurturing, synchronous and not frightening.
"I'd also say that there's no better way to motivate a parent to change other aspects of her life than to help her find joy in her parenting."
More recently, Dozier has begun a study of family interventions for internationally adopted children who spent the early part of their lives in orphanages or other institutional settings. Another ongoing research project, supported by a $3.1 million grant awarded in 2010 by the National Institutes of Health, is assessing the effectiveness of the ABC strategy for toddlers between 24 and 36 months old in foster care in Delaware.
Dozier says that assessments conducted so far have found that infants and young children whose parents or other caregivers learn the ABC method show substantial improvements fairly quickly. She and colleagues have published research findings that such children are more likely to have secure and organized attachments, which are associated with fewer long-term behavioral problems.
Other research findings, now in the process of being written for publication, indicate that the children in the study are able to better regulate their emotions, showing less anger in frustrating situations, Dozier says. Longer-term results indicate that the children in the ABC group have more cognitive flexibility — are able to see different aspects of a situation and adjust their thinking about it — and other higher-level thinking skills.
"With younger kids, the outcomes are very clear," Dozier says. "With older ones, we don't know as much yet, but we expect that those children will have better self-regulation and better interactions with their peers."
Looking at the biological effects
The research Dozier and colleagues are conducting seeks to evaluate the results of using the ABC intervention, not just by observing the children's behavior and their attachments to their caregivers, but also by measuring various biological functions.
One study looks at the children's production of cortisol, a hormone that is released as part of the body's response to stress and that influences the daily cycle of sleeping and awakening, by measuring levels in the child's saliva. High-risk children have flatter cortisol levels throughout the day — the typical pattern for other children and adults is one of high cortisol production in the morning and lower production at night — but the ABC group shows a change to the more typical fluctuations after just 10 sessions of the intervention, Dozier says.
Other biological assessments are being conducted on telomeres, which are the ends of each chromosome and which may be related to diseases resulting from stress and aging; on the process of gene methylation — measurable changes in genes due to stress; and on reactive proteins in the blood, which increase with infection.
"Other than cortisol, I'm not an expert on any of these biological [measures]," Dozier says. "So I work with experts on each of them."
Dozier has been studying the adjustment of children in foster care since she came to the University of Delaware in 1994 and is internationally recognized for her work in the area of early childhood and disruptions in care. She has published, lectured and served on the editorial boards of journals in her field and received the National Institute of Mental Health Innovation Award in 2006. In 2007, she was given the Bowlby-Ainsworth Award from the New York Attachment Consortium of the Center for Mental Health Promotion.
Dozier says her original interest in her research subject came when she saw a TV news report about a child who was shown, screaming, as she was being separated from her foster parents. Dozier decided to look into the issues involved in separation from a caregiver and eventually, through successful iterations, developed the intervention strategy for foster parents and then for birth parents.
"I love working with birth parents," she says. "They develop a trust in us and a relationship with us, and they tend to stay involved. It's very exciting work, and there are so many rewards."