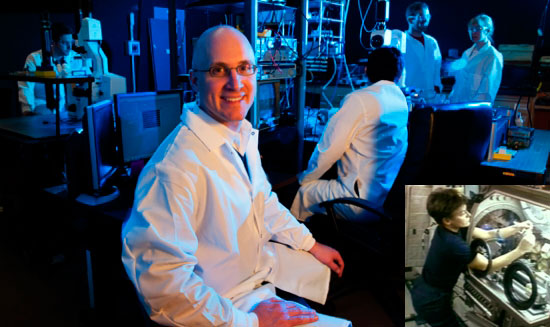 Eric Furst is intent on advancing the science of the super-small, and not even Earth's gravity can hold him back.
From his office in UD's Department of Chemical and Biomolecular Engineering, Furst has directed astronauts aboard the International Space Station (ISS) in some of the first nanoscience experiments in space.
Furst's focus is colloids — otherwise known as emulsions or suspensions — materials that are part solid and part liquid. You know them as paint, glue, egg whites, gels, milk, even blood.
He is exploring colloids at the nanoscale to reveal their physics. Ultimately, his goal is to identify how nano-"building blocks" of various shapes and chemistries can be directed to "self-assemble" into specific structures with desired functions. Such "smart materials" could endow a robot, for example, with the dexterity to be able to pick up an item as fragile as an egg.
In 2007, he won a NASA research grant to explore materials called magnetorheological (MR) fluids as part of a program called InSPACE (Investigating the Structure of Paramagnetic Aggregates from Colloidal Emulsions).
If you subject MR fluids to a magnetic field, they morph into a solid. Iron nanoparticles dispersed inside form microscopic lattices that cause the suspensions to stiffen. Once the magnetic field is removed, the solid amazingly transitions back to a fluid again.
Studying MR fluids on Earth is difficult because although small magnetic particles remain in suspension, large particles sink due to Earth's gravity. The low gravity aboard the ISS eliminates this effect.
Furst was ecstatic when the space shuttle Discovery lifted off in October 2007 to transport his first experiments to the ISS: "I was like a 7-year old. I even took my dad to the launch," he says with a grin.
Space Station Commander Peggy Whitson conducted many of the UD experiments in the ISS Microgravity Science Glovebox, as Furst and postdoctoral researcher Paula Vasquez watched from UD via a video link. Furst even spoke with Whitson over the phone when questions arose.
Samples in capillary tubes were placed between electromagnets called Helmholtz coils, on which two microscopes were focused. The suspensions were studied under a toggled magnetic field for one to three hours to gain insight into their long-term behavior. More than 40 runs were done over several months.
"What we learned is that these suspensions follow a phase transition that no one had ever seen before," Furst says.
Morphing from a fluid to amorphous solid and finally an ordered crystal, millions of MR particles came together as highly ordered "colloidal droplets." Experiments aboard the ISS this summer will probe these droplets, with the aid of the crew and postdoctoral researcher James Swan.
Understanding how to precisely control the states and properties of MR fluids could yield new applications in space and on Earth, Furst points out, from increasing the mobility of space rovers for delving into distant planets, to improving the design of earthquake-resistant structures.
And the applications are ever-expanding. With the basic principles of directed self-assembly decoded on the ISS, his team is creating materials from more complex nano-building blocks — doublets he calls "smashed spheres," and titania ellipsoids, shaped like rice, but 10,000 times smaller.
With these infinitesimal components, Furst's lab already has created novel functional nanomaterials for use in optical communication systems and as thermal coatings, with the support of the Department of Energy and the National Science Foundation.
"The sky's the limit!" Furst says.