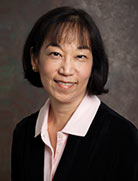 Why did you decide on UD? I had been serving as commissioner for education research at the Institute of Education Sciences, which is the research arm of the U.S. Department of Education, for several years. I'd always planned to return to academia at some point. When President Harker met with me in D.C. to talk about the College of Education and Human Development, he presented an exciting vision for the University and the college. Honestly, at the time, I didn't know much about Delaware, but I was looking for a new challenge and the more I explored the idea, it seemed like a good fit. The University has great people, a strong community, and is in a time of growth and development, which presents many opportunities to have an impact on the college.
Hometown: San Jose, California
Major areas of research/scholarship: My research has focused on the learning and achievement of students of color. Most recently, I have explored the roles of ethnic identity and bicultural efficacy in the achievement of American Indian and Latino students.
One of your biggest (academic) accomplishments: I established the peer review system for the Institute of Education Sciences and shaped the education research grant programs for 10 years. During this time, we launched major research programs, including the $100M Reading for Understanding program, a research program to evaluate the impact of state and local education programs, and the interdisciplinary pre-doctoral research training program in the education sciences.
Current projects: What day is it? Seriously, as the dean of a newly reorganized college, my primary concern is keeping all of the balls in the air without dropping one that is breakable! We've just prepared a strategic plan for the college and a budget that ensures our fiscal sustainability, and are exploring new options for our academic programs, advancing our research capacity and developing a quarterly publication to let our alumni and friends know the great things that are happening in the college.
Greatest inspiration: People who embrace responsibility and take the initiative to engage in projects that ultimately change people's lives for the better. People who have great ideas and are passionate about their work. Big challenges that need to be met head-on, and developing creative solutions that go beyond solving the immediate problem to making the entire system, organization or whatever, better.
What else should we know about you? A few years ago, along with other members of a choir, I joined with a Ukrainian chorale to sing St. Matthew's Passion in German in the opera house in Odessa, Ukraine. The Ukrainian singers were really serious singers. Sadly, I am not. Hence, I must confess that there were a couple of very fast sections that I never really mastered, so I resorted to just moving my lips during those sections.