Tom Glaser
President,
Supply Chain International, VF International SAGL,
Lugano, Switzerland
It is my pleasure to welcome you to the University of Delaware's FIBER journal — an online journal dedicated to exploring the global apparel industry. I am particularly pleased that this issue focuses on the importance of the Italian fashion and apparel industry. My firm, VF International SAGL, is located just across the border from the Italian fashion center of Milan. I have had plenty of opportunity to benefit from and consider just what makes Italy such a vibrant center of the global fashion and apparel industry.
As our industry continues to evolve, Italy is positioned to continue its role as a fashion leader at the upper end of the value chain. No one will contest that the Italian industry continues to innovate, and its companies clearly lead the world in brand building. Globally, people prize Italian brands and design. Walk the high streets of London, Shanghai, Sao Paolo, or New York and the most dominant retail brands are Italian.
As you will discover in this issue's insightful articles, Italy continues to challenge the industry with new design, production, and consumer marketing concepts, just as they have done for more than half a century. There is no single answer to explain the continued relevance and importance of the Italian apparel industry, but the articles in this issue provide a few intriguing explanations that you will enjoy considering.
Whether you are just getting to know the Italian fashion and apparel business or are researching this important European fashion hub, there's plenty of valuable content in this issue of the FIBER journal.
On behalf of the editors of the FIBER journal, we are glad to have you as a reader and welcome your feedback. Contact us at fiberjournal@udel.edu!
The FIBER (Fashion International Business Education Response) project is an outreach initiative led by the University of Delaware and funded by the U.S. Department of Education. Our mission is to showcase fashion and apparel markets around the world, share the insights of leaders in the industry and the latest academic research on critical issues, highlight opportunities for further education, and provide a forum for the exchange of ideas, connecting members of our community around the globe.




Stephen Doyle and Christopher M. Moore of Glasgow Caledonian University take us on a brief journey into the world of Italian luxury fashion with a visit to Milan.
Long before you arrive at this cosmopolitan city's center, you know that luxury fashion and design rule. Even in the baggage collection area of Malpensa Airport, the traveler is met by a series of billboards promoting one of Milan's most important fashion residents: Dolce and Gabbana. The images give a glimpse of what is to come, not just in respect to the brand, but to the city itself: confident, sensual, exotic, handsome, strong, and very well-dressed (even if, in the case of the ad images, there is more flesh than garment on show).
Read more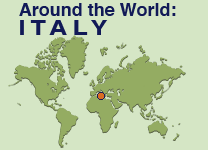 Italy is home to glorious history, timeless beauty, and high fashion.
Fashion in Italy is rich in tradition, but part of that tradition is innovation. The development of new means of production, from high-quality textiles to precision patterning, have played an important role in Italy's preeminance in the fashion world. Today, many Italian designers and artisans are leading figures in the movement toward ethical and sustainable production.
The Italian economy is driven in large part by the manufacture of high-quality consumer goods produced by small and medium-sized enterprises. Italy's textiles and clothing products comprise 6.8 percent of the total world market share, while footwear, leather, and leather products comprise 13.4 percent.
In the lexicon of fashion, Italy is synonymous with luxury. Designer names such a Dolce & Gabbana, Versace, and Prada are recognized around the world as the pinnacle of quality. The Italian fashion industry has clearly mastered the art of brand development and protection.
At 7.4 million people, Milan is Italy's largest metropolitan area and is the capital of the Italian textile and apparel industry. Seasonal fashion shows in Milan are highly anticipated and reported events that set the stage for production of new styles around the world.





Camera Nazionale della Moda Italiana is a nonprofit association that represents over 200 Italian fashion companies.
Learn more




Three authors discuss how talent can be developed through training, study abroad, and on-the-job experiences.
Learn more