Gian Carlo Bina
Exporter, Dongping
Bina Hemp
Textile Co., Ltd.
China

Gian Carlo Bina was born in T. Monate, Varese, North of Milan in 1935 and has spent all his working life in textiles and fashion.
His first experience was in selling manmade fibers, produced in Italy by SNIA Viscosa, in North Europe. By 1970 he was manager of Linificio e Canapificio Nazionale, the most important linen spinning mill in Europe (hemp was no longer spun). After attending the Program for Management Development at the Harvard Business School in 1972, he became manager of a division at Bassetti, then the most important home textiles company in Italy.
From 1976 to 1985 he was general manager, first of the men's formalwear company of the Ermenegildo Zegna Group and then of the sports and informalwear company, also of the Ermenegildo Zegna Group. After this he became general manager or managing director in a cotton spinning mill affiliated with designer Romeo Gigli and the Versace Group. From 1996 to 1998 he served in Hong Kong and Tokyo as manager of local sales for Companies of Lineapiù, an Italian producer of high-end yarns for knitting. While in Hong Kong he learned that hemp textiles were produced in China, so he went to visit the company and "fell in love" with hemp. Since then he has imported hemp and linen yarns and fabrics from China to sell in Italy.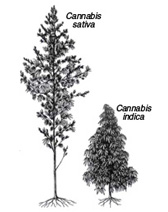 First I want to point out that two main and very different kinds of hemp exist:
One is Cannabis indica which has a high content of THC. Therefore it can be used for some natural medicines to fight sclerosis, glaucoma and as a pain reliever, but it is now used almost exclusively to produce marijuana and hashish. The result is that hemp is now well known only for the production of recreational drugs, and its ability to produce therapeutic medicines and many other products is mostly ignored. Chemical companies now produce medicines that have the same effects as those obtained from Cannabis indica.


The other is Cannabis sativa, which has practically no THC and which can be used for many products, such as fibers and yarns for all kinds of textiles, the best cellulose, cosmetics, soaps, plastics, insulating materials, oil for food, bread, beer, and oil for engines instead of petroleum, as Henry Ford demonstrated back in 1935. It is also very rich in antioxidants.
Here I consider the Cannabis sativa version of hemp. Besides the many uses previously mentioned, the plant is also very effective in transforming carbon dioxide into oxygen, and therefore it can improve the quality of the air we breathe. It has deep roots so it prevents erosion, and it improves the quality and conditions of the soil in which it is planted.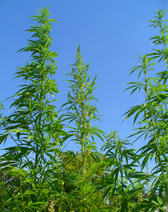 Hemp grows easily in moderate climates and is ready for harvesting after about four months. It needs very little water and no herbicides or pesticides, which makes hemp fiber naturally organic. As compared to hemp, cotton needs a large amount of water and relies on pesticides and herbicides, using 30–35 percent of the world's production of pesticides and herbicides.
Hemp as a fiber has very interesting properties that render it appropriate for use in textiles. Very light hemp fabrics are now available, and they are naturally softer than linen. They are cool and comfortable for summer, but they are also as warm as wool for winter. They are machine washable and very wear resistant, so they can be treated with any finishing machine.
Hemp is also good to use for home textiles: bed sheets, tablecloths, sofas, and furnishings in general. It is much more resistant and comfortable than any other natural fiber. The sails of sailing ships were made of hemp.
The following are the main reasons why hemp, in spite of its very interesting qualities, is almost unknown to the consumer and is also, therefore, very seldom available: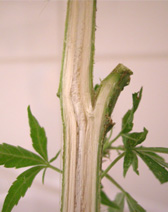 The process of taking the fibers from within the plant is much more difficult than the comparable process used with linen. Hemp is two to three meters tall, whereas the flax from which linen is made is about 60 cm tall. So the "cane" that holds the fibers is much harder and more difficult to deal with.
The industrial process from the plant to the fiber and the yarn is much longer and produces more waste than the comparable process with linen. The result of this is that the price for hemp is about 20 percent more expensive than linen.
Because the quantities of hemp that are used are very small, no adequate investments have been made in developing new methods and new machines that can reduce the production costs.
Until a few years ago, even in China where the best hemp is produced, it was not possible to produce really light fabrics. Now it is, and the problem now is essentially that hemp is not widely known for its use in textiles. Price can be a problem in summer when it competes with cotton and linen but not in winter when its competitor is wool. At any rate, hemp is more comfortable than any other fiber in summer.
The following are reasons in favor of using hemp instead of linen or wool (cotton is another world):

Hemp is cool and comfortable in summer, but it is also warm and comfortable in winter.
Hemp produces less wrinkles and more resilient creases than linen, so its natural look is similar to other textile fibers.
Hemp is a natural biofiber because it uses no chemicals.
Wearing hemp garments produces a very pleasant, relaxing effect because it does not produce static electricity and absorbs and releases humidity very quickly, thus keeping the body in a particularly pleasant and comfortable state. It is especially comfortable when used close to the skin, in the form of knitted underwear, for instance.
Today hemp is known and used for textiles only by the few people who have come in contact with it and by consumers who want natural products. When there are better informed and better motivated consumers, demand will grow and more efficient processes will surely be developed.
I have to mention here that a very strong propaganda campaign against hemp was fueled, especially in the United States, by chemical, pharmaceutical, and petroleum companies, who saw hemp as a dangerous competitor to oil and many of their chemical products. Henry Ford, for instance, produced a car in 1935 with a body made of hemp plastic and an engine that used hemp oil instead of petroleum.
A strong campaign against hemp was waged with the support of William Randolph Hearst and Harry J. Anslinger, who was head of the Unites States' National Bureau of Narcotics from 1932 to 1962. Finally, John F. Kennedy removed him. To gain the support of politicians and create terror with the public, they referred to hemp by using the term marijuana until in 1937 a law was passed that prohibited the cultivation of hemp in the United States. This is still the situation in the Unites States (although from 1942 to 1945 the cultivation of hemp was promoted in the Unites States for military needs). In Canada, by contrast, Cannabis sativa is a regular crop.
If you want to know more about hemp, read Chris Conrad's Hemp: Lifeline to the Future (Creative Xpressions Publications, Los Angeles); Rowan Robinson's The Great Book of Hemp: The Complete Guide to the Environmental, Commercial, and Medicinal Uses of the World's Most Extraordinary Plant (Park Street Press, Rochester); and Christian Ratsch's Marijuana Medicine: A World Tour of the Healing and Visionary Powers of Cannabis (Arts Press, Rochester).
Top



Sharron J. Lennon
Irma Ayers Professor,
University of Delaware Department of Fashion and
Apparel Studies
Dr. Sharron J. Lennon, Irma Ayers Professor, received her Ph.D. from Purdue University in consumer science and retailing. She studies dress and consumer behavior from a social/psychological perspective and teaches graduate and undergraduate courses related to consumer behavior and dress. She has published more than 100 research articles and book chapters in various publications. Her current research interests include online shopping, consumer misbehavior on Black Friday, consumption of fashion counterfeit products, and compulsive shopping. She is currently the editor of the Clothing and Textiles Research Journal.
In October 2009, Hye-Shin Kim and I had the opportunity to visit beautiful Milan, Italy, as part of our Business International Education grant from the U.S. Department of Education. The long-term goal of the grant is to develop a prototype program to better prepare students entering the textiles, apparel, and merchandising industry by internationalizing the existing curriculum in fashion and apparel studies, and through faculty development and business outreach. With this in mind, and with the help of our advisory board members, we set out to learn as much as possible in a week about the Italian fashion industry. We visited with and learned about several Milan fashion companies, including Zegna.
The Zegna Group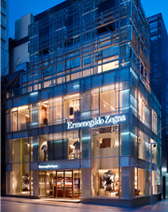 Today the Zegna Group creates, produces, and retails three collections of menswear and accessories per year and licenses other apparel and accessories. Zegna is one of the oldest family-owned companies of Italian entrepreneurs, now in its fourth generation of company leaders. Zegna is the world leader in luxury men's clothing, retailing its products in over 90 countries. The company generates over 88 percent of its sales overseas and has operations in mature and emerging markets. By 2009, Zegna had 550 Zegna stores, and more than 300 of them were fully family-owned. This growth is possible through diversification of the offering (e.g., licensing footwear and leather goods, fragrance, underwear, men's eyewear) and vertical integration of operations.
Vertical Integration
The extent to which a firm owns its upstream suppliers and its downstream buyers is referred to as vertical integration (Strategic Management, n.d.). Thus, vertical integration is a strategy in which one company owns and controls multiple stages of production and distribution of a product or service. Because it can have a significant impact on strategic issues, the vertical nature of a firm is important to corporate strategy. Expansion of activities downstream (e.g., when a fabric producer begins producing garments) is referred to as forward integration, and expansion upstream (e.g., when an apparel retailer begins producing garments) is referred to as backward integration. Zegna began as a producer of fabrics. Then they integrated forward into apparel assembly. Later they integrated forward again into retail. Some benefits of vertical integration include (1) improvement of supply chain coordination, (2) increased control, and (3) ability to capture upstream (or downstream) profit margins.
The Zegna Group is an industrial group (Capello and Ravasi, 2009). Italian industrial groups have kept control and management of design, industrialization, and manufacturing, while integrating later with retail. Italian luxury brands tend to be vertically integrated in both manufacturing and retail.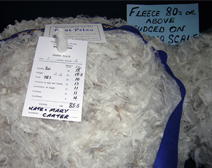 History of Zegna
Angelo Zegna, a watchmaker, opened a wool mill in the late 1800s. His youngest son, Ermenegildo, later took over the mill in Trivero, in the Alpine foothills near Biella, Italy, and launched the Zegna brand. Ermenegildo Zegna's vision was to create and produce the finest fabrics in the world for men's clothing. His strategy was to select the best raw materials from all over the world. Since the quality of the finished product depends on the quality of fabric, it was deemed important to buy materials directly from the countries of origin. Thus, today Zegna purchases superfine merino wool from Australia, silk from China, cashmere from Inner Mongolia (China), mohair from South Africa, cotton from Egypt, and vicuna and alpaca from Peru. In addition to selecting the finest materials, Zegna develops innovative products, innovates production, and promotes the brand.
Angelo and Aldo Zegna, sons of Ermenegildo, were responsible for the vertical integration of the company. They transitioned the company from exclusive production of fabrics to production of high-quality tailored men's suits. In 1968 Zegna integrated forward (downstream) to produce clothing, using its fabrics to make jackets and coats (Croppen, Ebers, and Huxham, 2008). This was followed by the launch of Made to Measure in 1972. The next step in vertical integration was to open their own individual-brand stores, and the company began opening stores in Italy and elsewhere in the 1980s. The first Zegna boutique opened in Paris in 1980, and the second opened in Milan in 1985. Today, Zegna is completely vertically integrated: they choose raw materials, produce fabrics (wovens and knits), design and produce clothing, and retail the clothing.
Unique Nature of the Italian Textile and Apparel Industry
Italian manufacturers are major competitors across European countries in both textiles and apparel. The overall trend of Italian textile and apparel firms is different from the rest of Europe (Guercini, 2004). For example, as a country with high labor costs, Italy has a large number of textile and apparel firms as compared to other European countries. Italy has many small textile and apparel firms located in industrial districts. Small independent retailers have a large market share in Italy as compared to other European Union (EU) countries, where large distribution chains and specialty chains are more likely to operate. Italy is unique in the EU in the number of independent retailers.
Reproduced with permission from the Ermenegildo Zegna Group.
The Italian luxury goods industry is based on local craftsmanship. Without the expertise of local artisans, companies might be producing very different products, perhaps in lower-cost environments (Galbraith, 2007). However, local craftsmanship is not easily maintained, so many Italian companies have moved from a traditional small-business structure to a highly vertically integrated one. Downstream vertical integration (i.e., from fabric production to retail or from fabric production to apparel production) is the most frequent type of vertical integration in Italy, and it is more frequent in Italy than in other EU countries (Guercini, 2004).
A Boston Consulting Group report explained that vertical integration allows a company to control the whole value chain, from manufacturing to retail, and allows the brand to maintain high standards (Galbraith, 2007). This results in a blending of product identity and retail identity. Vertical integration is not a new strategy; for example, French luxury goods companies have been highly integrated businesses for some time. However, Italian luxury goods groups have only recently vertically integrated. According to Galbraith, only one brand is completely vertically integrated and that is Ermenegildo Zegna.
An additional benefit of vertical integration is that Zegna finds it easier to promote company values. To promote company values the Fondazione Zegna was established in 2000. This foundation promotes a "culture of beauty," one that respects the environment and local communities. The foundation is headed by Anna Zegna (fourth generation in the family business) and supports environmental, social, cultural, and scientific projects and research. The foundation promotes sustainable development, improvement of the quality of life for individuals and communities, and protection of the environment and local cultures.
References
1. Capello, P. V., and D. Ravasi. 2009. The variety and the evolution of business models and organizational forms in the Italian fashion industry. Business and Economic History On-Line, 7. Retrieved January 24, 2010 from: http://www.thebhc.org/publications/BEHonline/2009/capelloandravasi.pdf

2. Croppen, S., M. Ebers, C. Huxham, and P.S. Ring. 2008. The field of inter-organizational relations: A jungle or an Italian garden? In The Oxford Handbook of Inter-Organizational Relations, edited by S. Croppen, M. Ebers, C. Huxham, and P. S. Ring. Oxford, UK: Oxford Press.

3. Galbraith, R. 2007. Italian brands style a business model. International Herald Tribune. Retrieved January 24, 2010 from: http://www.nytimes.com/2007/02/21/style/21iht-rvert.4675763.html.

4. Guercini, S. 2004. International competitive change and strategic behaviour of Italian textile-apparel firms. Journal of Fashion Management and Marketing, 8(3), 320–339.

5. Vertical integration. Strategic Management, n.d. Retrieved January 25, 2010 from: http://www.quickmba.com/strategy/vertical-integration/.


Top