Beatrice Mistretta
Student,
Dept. of Fashion
& Apparel Studies,
University of Delaware
I was born in Rome, Italy, on August 25, 1988, into a family of diplomats. Only one month after I was born, I was brought to Brussels, Belgium, where my family was living at the time. When I was three, we moved back to Rome where I started going to kindergarten. During elementary school, my father took a job in Montenegro, Yugoslavia, but since the school system was not one of the best, my mother decided to stay in Italy with my older brother and me, to guarantee us a better education. At the end of fifth grade, my mother asked me if I wanted to move with her to Eritrea, a small country in Africa, where she had decided to do some volunteer work. As an adventurous child, I said yes without hesitation. There I spent some of the best times of my life, but after two years we were forced to leave. Eritrea was fighting a war with Ethiopia, and the situation was becoming dangerous.
After this wonderful experience, I spent five years in Rome before moving to the United States, where my entire family finally reunited. I finished high school in Philadelphia, but during the summer before my senior year I was in a motorcycle accident that forced me to spend several months in bed. Having a lot of time to look at magazines and draw, I realized that my true passion was fashion and that I wanted to become a designer. This is what made me decide to come to University of Delaware, where I am currently a senior fashion design major, as well as the president of Synergy Fashion Group.
If you want to get to the top, you must start from the very bottom. While you are working your way up, you'll get to experience new things and learn all you will need to know. In the fashion world, a good way to start at the bottom is by being an intern. Since my first year of college, all of my professors have encouraged me to find a summer or winter internship in order to gain field experience and enrich my knowledge. I believe that while in school, you can learn many things, but no matter how excellent your professors may be, they are never going to be able to teach you as much as you can learn from interning. It is when you get hands-on experience and see how the things that you were taught in class are put into action in the "real world" that you get a full understanding of how the fashion world runs.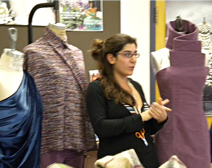 Since many people recognize the importance of an internship and that it is a great way to learn, positions are very few and the search process is very competitive. There are several ways to get a position, but I believe that the most effective way is by meeting people and making connections. The University of Delaware has a yearly fashion show presented by Synergy, a fashion group on campus. During this event, students have the opportunity to show their skills and get exposure to people from the industry that come to assist and judge the show. During our last fashion show, I had the chance to meet one of the judges, Rosa DiPietrantonio, who works for Etro, an Italian fashion house founded by Gimmo Etro in 1968. It is still a family-run business with its headquarters in Milan, stores all over the world, and a showroom in New York.
I felt like one of the luckiest people in the world when I was offered the opportunity to have an incredible summer internship in the heart of Manhattan. All of sudden I was thrown into the middle of one of the most populous, fast-paced cities in the world — a city very different from where I last worked. The summer before, I had spent two months working at the Fausto Sarli fashion house, in the historic center of Rome.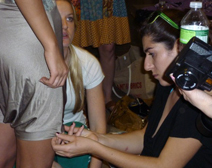 I think that the biggest difference between Rome and New York is the way people live in the city. This is also indicative of the big difference between the American and Italian lifestyles, the latter being much more calm and maybe a little less stressful.
I am never going to forget some of the first words that my boss told me upon my arrival at the Etro showroom. She said, "In the fashion world, many people stress out every day. I do not want you to stress out. I want you to work hard while enjoying what you are doing and having fun." To say that I was astonished when I heard these words is not even enough. While we continued the tour, I kept thinking about her words, an expression that I thought I would never hear, since all I had ever been told was that working in the fashion world is extremely tiresome, fast-paced, and stressful. The more I thought about it, the more I realized how much she was right. Fashion is all about researching what is around us to create colors, textures, visions, feelings, and emotions. Doesn't this sound fun to you? Of course, it is not always fun, as it can be very demanding and stressful, but if you keep thinking about the magic part of fashion, it is easier to face the tough parts with a big smile on your face. After the first tour of the showroom, I knew I was in for an amazing learning experience.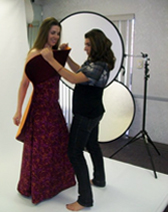 My first day of work was during a weekend, and only five people were in the showroom. It was a very important day, as we were all sitting around waiting for bags full of clothes to come in from the airport. At the beginning of every market, Etro sends samples of the collection to its showrooms. When we finally got all the luggage, we brought them upstairs and started unpacking and hanging the clothes. It was like opening a treasure chest filled with precious wonders. Every bag was filled with amazing dresses, blouses, shirts, jackets, pants, etc, all made with incredibly soft and high-quality fabrics with bright colors and designs. Many of them had paisley, the typical design that people have in mind when they think of Etro.
After we finished hanging all the clothes, I got to observe the staff merchandising the items. They divided them by color stories, creating a sequence of outfits, like they were preparing for a fashion show. When interning, you are not fully part of the company, you are just there as a temporary helper. The great thing about this is that you have the chance to observe everybody's job and take something from all of the workers. Doing this helps you understand what jobs you might like better than others. You can "steal" tips from watching how people deal with customers and with unexpected issues that may arise. Just by observing my boss present the products, I understood how hard it is to sell and how differently you have to act based on who is your customer.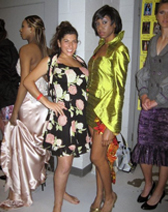 Going into the showroom, I knew I was going to learn a lot about the marketing process, but I learned way more than I thought I would learn. Watching my boss putting outfits together, I had a revelation that stripes and prints can go well together. It is never too much if you know how to ensemble an outfit, and she certainly knew how. Etro started as a fabric manufacturer, and therefore they have some of the best fabrics. I was also able to learn a lot about textiles. Every time I had something in my hands that felt like butter, I would look at the fiber component to learn what created that texture. I understood which fabrics I liked the most and what kind of weight and texture you need to make the fabric fall a certain way. In addition, by listening to my boss selling the garments, I learned the technical name of each fabric — something that I had already been taught in school but had never really stuck in my mind.
My interning experience was beyond magical and helpful for my career. Even if it was sometimes tiring, I always had fun working, and it allowed me to learn a lot of new things every day. I understood even more how much I loved fashion and that I wanted to be a part of this world. In addition, I realized how much I appreciated Italian fashion, its classic and elegant cuts and impeccable quality and originality. I came to the conclusion that as an Italian, the style of my country is in me and in the way I use my creativity. As a designer, I could never create something else, and I am proud to say that maybe one day I will be one of the Italian designers that creates wonderful garments that people buy and wear all over the world.
Top