Simona Segre Reinach
Professor,
IULM University,
Milan, Italy, and
IUAV University,
Venice, Italy
Cultural anthropologist Simona Segre Reinach teaches fashion studies at IULM University (Milan) and IUAV University (Venice). She is on the board of advisors of the review Fashion Theory: The Journal of Dress, Body and Culture, Berg, Oxford. She has published several articles and three books and is currently undertaking research in China and Italy, collaborating on the project, "The New Silk Road."
While analyzing how China has been seeking to affirm its identity in fashion as a recognized Chinese aesthetic emancipated from an exclusively manufacturing China for my study of the Sino–Italian joint venture, I realized that in the last few years, the identity of Italian fashion communicated and accepted (especially abroad) as stable, ancient, and historicized — almost as if it were no longer fashion but an antique — has been in a state of transition, both in Italy and in the rest of the world.
An analysis of the press in the last few months confirms the intensification of plans aimed at underscoring the prestige of Italian production, of the so-called "made in Italy" label. During Pitti (a menswear exhibition held in Florence twice a year) in January 2009, men's socks were presented imprinted with the Italian national anthem, the story of Garibaldi, and other cornerstones in the history of Italian national unity. The Lavazza calendar for 2009 features episodes in Roman history, ranging from the wolf and the twins, to Futurism, to La Dolce Vita, through the Renaissance — the latter still the most quoted reference when the words Italy, creativity, and fashion are mentioned together.
To strengthen its brand, the Salvatore Ferragamo Fashion House also has focused on the relationship between Italian history and Italian identity, celebrating the company's 80th anniversary with an exhibition inaugurated in Shanghai (April 2008), which later moved to Milan at Triennale (October 2008). Communicating the Renaissance craftsmanship and Italianness of the brand was a tableau vivant of the shoemaker's workshop. Two shoemakers made shoes by hand "as they used to," wearing white aprons, spectacles perched on their noses, in a colorful, clean model workshop, full of leather scraps, hides, and tools.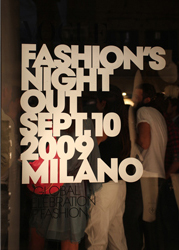 The same communication strategy was chosen by Ermenegildo Zegna, who reconstructed a tailor's workshop in the main store in Via Montenapoleone for Fashion's Night Out in Milan in September 2009. Diego Della Valle Tod's brand sponsored a book titled Italian Touch in which the "Italian way of life" is presented. Some of these "Italian Portraits" are now part of an advertising campaign for the brand, centered on Italian style.
It is not on the authenticity of recapturing Italian myths that I want to dwell, or on the veracity of "made in Italy" — the very word "authentic" does not easily apply to fashion, which always results from many encounters and hybridization. But I am interested in the use of history in the present communication strategy for Italian fashion. I am particularly interested in elaborating on one aspect, that of Renaissance artisan creativity associated with "made in Italy." It is a considerable historical falsehood since "made in Italy" was born from the abandoning of artisan work for industrial fashion.
The 1980s model, in fact, on which "made in Italy" made its name, was the first model of creative industrial fashion. After Florentine luxury prêt-à-porter, with aristocratic couturiers with names such as Marchese Emilio Pucci and Donna Simonetta Colonna di Cesarò making the first attack on French hegemony, Italian fashion left the aristocratic Florence, the city of art, and moved the fashion shows to Milan, the city of commerce. The result was ready-to-wear hallmarked by the so-called "industrial aesthetics," with its Fab Four: Armani, Ferré, Missoni, and Krizia, the would-be designers/entrepreneurs, the creators of "made in Italy." "Putting it together," which the American journal Women's Wear Daily attributed to the total look (coordinated garments and accessories) already proposed by Walter Albini in 1971, is still a good metaphor for Italian prêt-à-porter.
What was "put together" was clothing design and beauty with the capacity for mass reproduction and the perfecting of the system of sizes which gave industrial production the accuracy it needed. The present relaunching of "made in Italy" therefore makes use of history as an epic, richly imaginative tale, but it leaves out the real history of fashion, that is, the fact that "made in Italy" is a recent phenomenon and a situated practice — and above all, one which is no longer what it used to be.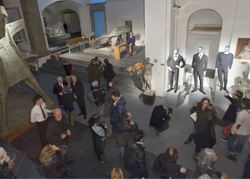 For economist Enrico Cietta, Italian fashion is, in fact, now in its fourth generation, if we consider industrial fashion arising in Milan in the 1980s, characterized by the collaboration between fashion design and industry, as the first one. The second generation, in the 1990s, also integrated the distribution system: fashion design, industry, and monobrand stores. The third generation added communication and marketing to the prolific relationship between fashion design, production, and distribution. Lastly, the current fourth generation is the generation of fast fashion, which Cietta considers a hybrid between production and service in that its product is above all a container for information and fashion trends (Cietta, 2009).
Italian fashion not only conjures up the myths of ancient history, but also those of its own history, equally glorious, si parva licet componere magnis (that is, if we are allowed to compare big things with smaller ones), but equally past. We might describe it as "double vintage." From the romanticization of a glorious remote past emerges the idea of craftsmanship and creative workshop, conjugated with a feeling of "leadership in taste." (Curiously enough, China looks instead to the Beautiful Future — which is the name of a very recent joint venture between the Miroglio Group and a Chinese group, TBF, or The Beautiful Future),
The falling back on craftsmanship also has the considerable aim of underlining the separation between those who create the ideas and those who materially carry out the work. In the case of Sino–Italian joint ventures, this was perhaps the start of the relationship between Chinese manufacturers and Italian entrepreneurs, but it certainly is no longer so, or at least it is not only so, as the evolution of joint ventures clearly shows. Through the "made in Italy" propaganda, the "secrets" of relocated production in China are wholly or partly kept hidden. But this separation also helps to classify every piece of Italian fashion that is exported with the very general label of "Italian luxury," or "made in Italy," as if it were the work of skillful artisans unacquainted with globalization, standing still in a time bubble.
Craftmanship has been considered one of the main assets to be used to relaunch the Italian image.1 The paradox is that all the efforts to re-establish what "made in Italy" is and what it should be may have the opposite result, revealing that the "emperor has no clothes." Even the chair of the Young Entrepreneurs in Footwear Association (footwear is the sector that most suffered from international competition, especially from the Chinese) has said at a recent meeting: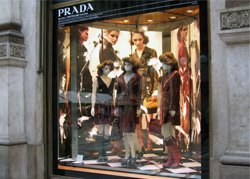 "Talking about 'made in Italy' seems to be out of date. We have to update our vocabulary." ("Scommettere sull'Italia per rilanciare l'export," Allessandra Iannello, Affari and Finanza, 20 July 2009).
We still have to discuss taste and the emerging forms of distinction, to which fashion always refers. Today, culture is made up of needs and desires, not rules. Similarly, fashion is disseminated through seduction and not through regulations. And "taste," couturière Madeleine Vionnet once said, "is the feeling that permits one to tell the difference between what is beautiful and what is merely spectacular" (quoted in "Liberating Women's Bodies," Suzy Menkes, 13 July 2009).
Today, we should probably read this interpretation of distinction and taste as anti-brand and anti-luxury. "Made in Italy" is rapidly becoming a void stereotype in which new Italian fashion designers might not like to be classified. Fashion is partly object and partly ideas. The idea that revolves around numerous examples of Italian fashion that do not hold onto the mythic paths of a Disneyfied past, reveal a focus on creativity and product.
Suzy Menkes has also recently spoken of a "made in Italy Renaissance." But it is something diametrically opposed to what is usually conveyed by this term. It is not a question of resuscitating or reinventing complete men, humanists, scientists, artisans, navigators, and dreamers. As the title of her article, "Italy Looks Beyond Its Borders for Fashion Talent," indicates, "the search for new young talent in Italy has taken an intriguing twist: Look for creative designers who have moved to Italy to work with its craftspeople." (The New York Times, 20 June 2009).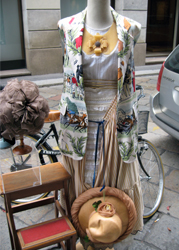 Menkes' article refers to Max Kibardin, a Russian designer specializing in accessories, especially footwear. Kibardin also won recognition at the 2009 Florence Pitti "Imagine Who's Next," devoted to young talents. The award seeks to "show a generation of designers from Eastern Europe the outcomes of the encounter with the extraordinary Italian production culture in fashion." But we could also add many others, such as Indian native and New York-based actor and fashion and jewelry designer Waris Ahluwalia, who has his products made in Bombay and Rome (houseofwaris.com).
Is it therefore our turn to be "Chinese"? Do foreign creatives come to Italy to "exploit" our production capacities? In an almost ironic twist, the culture of foreign creatives exploiting Chinese production capacities becomes the production base of foreign talent. In reality, in line with the transnationality and cosmopolitanism of careers in contemporary fashion, Kibardin has moved to Milan after studying in Russia and living in New York.
The meaning and role of "national identity" in fashion needs to be researched. And the core of an Italian way in fashion and design in a globalized world needs more investigation. "Artisan" products, as a practice and not as rhetoric, are thus a sector present in many countries, differing according to the traditions of each country, but similar within each country, as is clearly illustrated by the issue of Fashion Theory devoted to "eco-fashion" (Fashion Theory, Volume 12, Issue 4, 2009).
Footnote
1 And French brand Louis Vuitton must have made the same decision: a young woman artisan — depicted as if the subject of a Dutch portrait in the early 17th century — is making a different set of items, a purse, a handbag, etc.
Simona Segre Reinach's publications in English:
1. "The material speaks for itself," 2003. In Fashion, Italian Style, by Valerie Steele. Yale University Press: Yale and London.

2. "Fashioning the Church," 2003. In Fashion Theory: The Journal of Dress, Body and Culture, 7(2).

3. "Walter Albini," "Roberto Capucci," "Dolce & Gabbana," "Fendi," "Sorelle Fontana," and "Romeo Gigli," 2004. In The Encyclopedia of Clothing and Fashion, edited by Valerie Steele. Charles Scribner's Sons: New York.

4. "China and Italy. Fast fashion vs. prêt-à-porter. Towards a new culture of fashion," 2005. In Fashion Theory: The Journal of Dress, Body and Culture, 9(1): 1–12.

5. "Milan, the city of prêt-à-porter," 2006. In Fashion's World Cities, edited by C. Breward and D. Gilbert. Oxford: Berg.

6. "Milan as a fashion city," 2010 (forthcoming). In Berg Encyclopedia of World Dress and Fashion, edited by Joanne Eicher.
Top