Carla Lasorte
asap
Milan, Italy
After graduating from university in 1992 in political sciences with a thesis on "Recycling," Carla Lasorte worked one year for an environmental association, followed by a full-time position at the Paolo Pini psychiatric hospital of Milan Paolo Pini on a two-year project financed by the European Community. Afterward, Lasorte joined the family company, Zanone, which specialized in high-quality knitwear. In 2005, Lasorte took over asap (as sustainable as possible), where she develops projects and is in charge of communications.
asap, as sustainable as possible, was originated by OPOS, a group founded in Milan in 1990 by Alberto Zanone, former owner of Zanone Knitwear. The group deals with ethical, social, and sustainable design and is committed to the ethical project, Fibre Tibet, which is promoted by the nonprofit American Foundation Bridge Fund.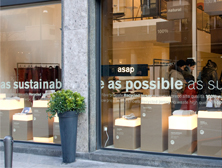 Being in Milan, one of the recognized centers of fashion, asap decided to apply design to fashion, and through fashion promote the concept of sustainability. It was the most natural and direct way of reaching a great number of people who gravitate to this city in search of novelties and trends.
Through a permanent selection of objects and a periodical planning of thematic sales, asap questions itself and everyone on the meaning of expressions such as ethical consumption and sustainable consumption: What choices could arise from an evolved and conscious individual, inevitably committed to consumption, but nevertheless concerned about a proportional waste reduction and about his own homologation to the superior consumer's diktat, thanks to a defensible criticism of the system he belongs to?
For those who are against fashion irrationality, against the planned obsolescence of its products and the typical cycle of recurring excitement and oblivion based on the intolerable logic of a forced replacement of "seasonal" goods, asap's products can appeal in many ways. asap carefully selects top-quality materials (yarns and fabrics) recovered from the warehouses of prestigious textile companies. These recovered materials were not used for "first product lines" because the colors and patterns were "out of style" or the quantities were inadequate for industrial production.
These "recycled" products, such as recycled knit, recycled jersey, and recycled fabric, invite the public and the professionals of the field to reflect on the paradox of the current market of "fashionable" products. It also opens the opportunity for a new profession: the "waste designer." The designer is forced to create with what he finds in the stock houses and not with what he is able to choose in the international fairs such as Premiere Vision or Milano Unica and Pitti Filati.
The current fashion system generates a huge quantity of waste that often lies unattended with the risk of deterioration due to the aggression of moths and other animals. The role of the "waste designer" is to valorize it, optimizing production with regard to the quantities and the range that is found.
An example of this optimizing capacity is the ear muffs that asap produced with only nine grams of pure cashmere. Even a small quantity of precious yarn —1 kilogram in 10 colors has been industrially treated and maximized — more than 1,000 pieces of ear muffs have been produced. Limited edition products are the inevitable result of our recycling concept, but it can be considered, on the other hand, as an added value in today's society where rareness is preferred to mass products.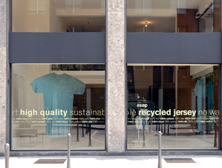 It is important to underline that the products of the recycling projects, despite their high quality, have very reasonable prices. The reason for this is that the purchase of "leftovers" can be achieved at highly competitive costs. Another aspect that confirms the sustainability of the recycled products concerns the moving of the materials. The products are manufactured in Italian laboratories which are located not far from where the materials are collected. asap offers two product collections, vegetable tanned leather and "100% Natural."
Vegetable Tanned Leather
The first collection includes leather goods and accessories conceived by OPOS designers. These products are made to awaken the consumer by promoting a productive process that enhances the material's quality. The vegetable tanning, despite requiring more time compared to chrome tanning (the most common process), has a low environmental impact. It is biodegradable and creates nonallergenic products. All imperfections and marks of time on the products are a sign of uniqueness and naturalness of the product's material.
100% Natural
The second collection offers clothing and home accessories that are 100% natural. This project started based on the desire to use precious natural fibers such as cashmere, yak, wool, silk, and other high-quality blends not subjected to a dyeing process. The fibers suffer no aggression from the application of surface coloring agents and therefore preserve their physical, mechanical, and tactile features with an incomparable natural touch. When coloring is needed, the dying process is entirely natural because it uses dyes that are produced with natural herbs.
asap has been active for three years. We are experiencing an increase in success and growing interest in asap's products. This has led to numerous requests from other retailers such as prestigious museums book shops. In addition, asap has garnered the interests of university students. The majority of customers appreciate being told about the projects and rarely buy without asking about the philosophy that is behind asap.
Top


Colleen McCann
Creative Director
and Partner,
School House LLC
Colleen McCann, is creative director and partner for School House, LLC. School House is an ethically sourced fashion brand whose market focuses on the university student and young alumni. Her background includes working for industry names such as Under Armour, Betsey Johnson, Calvin Klein, and Nordstrom's in the men's, women's, youth, and accessories categories.
Colleen graduated from the University of Delaware in 2002 with a bachelor of science in apparel design.
My first high school job was to flash my pearly Midwest smile at customers as they entered the store and say "Welcome to The Gap" in my best perky voice. My official title was sales associate, but I considered myself a glorified t-shirt folder. Every night after the store closed I found myself surrounded by stacks and stacks of t-shirts that needed to be perfectly refolded...only to be knocked down the next business day by a sugar-happy five-year-old or the woman who would pull the bottom t-shirt from the stack causing the whole pile to topple over. Although re-folding the entire store every night did take several hours, I would pass the time by reading the care 'n' content labels on the inside of each shirt that visited my folding cart. Made in Bulgaria. Made in Gabon. Made in East Timor… I would zone out and imagine all these far away lands. How does an American clothing company come to make t-shirts in places like that anyway?
Many years later I find myself folding t-shirts again, only this time they are going back into a suitcase filled with sales samples after a meeting. My business partner, Rachel Weeks, and I have just completed a sales call with another potential university client. Now, the care 'n' content labels read "School House, Made in Sri Lanka."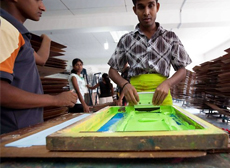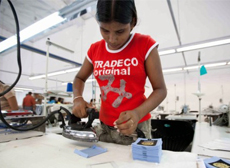 Rachel started School House while studying socially responsible apparel manufacturing as a U.S. Fulbright Scholar in Sri Lanka. Driven by the lack of fashion forward collegiate apparel in her alma mater's bookstore, Duke University, she decided to pack her bags and head to the small island nation off the coast of India to start her own ethically sourced apparel business. While Rachel was learning the ins and outs of apparel production and developing a living-wage factory to get the product made, I was in New York designing our wares, an opening collection of men's and women's t-shirts, hoodies, tanktops, yoga pants, and underwear. The idea behind School House is simple: trendy clothing for college students and young alumni. We wanted the silhouettes to be modern but still pay homage to their classic collegiate roots. The clothing needed to fit seamlessly into a student's existing wardrobe and still be fun enough to be worn to a football game or be fancy enough to be worn to a house party on Friday night. We retail our clothing at an affordable price while still being able to hold to the living wage aspect of the brand. We go school by school and never just slap a logo on our products. When we go to a new university, we talk to current students and alumni, we walk through the halls of campus, eat at the best 3:00 a.m. local burger joint, and find out all the quirky traditions that make each school's heart beat.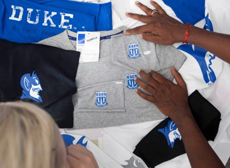 We got our big break from our first account, Duke University. Rachel came back from Sri Lanka with our samples, and we set up a meeting with Jim Wilkerson, Duke's director of trademark licensing and store operations. Jim placed a sizeable order and gave us the momentum we needed to move forward as a brand and to sustain our factory in Sri Lanka. We quickly gained other accounts in North Carolina including the University of North Carolina at Chapel Hill, Wake Forest, Appalachian State University, and East Carolina University.
Then, the little t-shirt company that could received its second big break from a meeting with Barnes & Noble College Booksellers. Last season the head buyer agreed to put a small amount of School House products into Yale and Harvard University bookstores. We are now expanding to 40 Barnes & Noble universities in 2010, including my alma mater, the University of Delaware, for this coming fall.
So if you ever see a School House product and look at the "Made in Sri Lanka" label, you know where the product came from: two traveling t-shirt saleswomen, a factory full of amazing craftspeople, and a giant network of family and friends that have helped us get here.
For more information on School House, please visit our Web site at www.shopschoolhouse.com.
Top