Milan, described by the Louis Vuitton City Guide as "essentially a modern city, known above all as the place that sets standards for international fashions" (2008, p. 61) is a sensible place to situate this brief journey into the world of Italian luxury fashion. There are other cities and towns that justifiably merit consideration such as Florence, Rome, Bologna and Prato, all of which have an important role to play in the Italian fashion industry.
But Milan is special. The first clue to the importance of luxury fashion to the city is found before you even reach the center. Arriving in the baggage collection area of Malpensa Airport, the traveler is met by a series of billboards promoting one of Milan's most important fashion residents: Dolce and Gabbana. The images give a glimpse of what is to come, not just in respect to the brand but to the city itself: confident, sensual, exotic, handsome, strong, and very well-dressed (even if, in the case of the ad images, there is more flesh than garment on show).
Arrival at the main train station, Stazione Centrale, is no less suggestive. Again, images of Dolce and Gabbana and its more relaxed sibling, D&G, dominate the advertising landscape, and Stazione Centrale is not an easy station to dominate with its bombastic architecture playing host to a rush of travelers. Arrival in Milan, whatever the mode of transport, leaves you in no doubt that this is one of the great fashion centers of the world and, moreover, that it has a pride and a certainty of its significance to fashion and design at all levels, but in particular at the top table.
The relationship that exists between fashion and Milan is intense. Every evening provides the Milanese with an opportunity to passegiare, as they have done for decades, in a public display of sartorial one-upmanship. Nowhere is this more competitively demonstrated than in the area described as the Quadrilatero d'Oro (Golden Quadrangle) — defined by Via Montenapoleone, Via della Spiga, Via Sant' Andrea, and Corso Venezia — in which can be found not only Italy's premier international fashion companies including Gucci, Missoni, Valentino, Armani, Dolce and Gabbana, Alberta Ferretti, Prada, Bottega Venetta, and Fendi, but also the world's, with Chanel and Louis Vuitton keeping the Italians company.
In luxury fashion terms the great achievement of Milan is that it is condensed and expansive at the same time. It has a concentration of luxury fashion retailing combined with a variety that few other cities can match. In considering this, the nature of the Italian market is such that it is characterized by a large proportion of indigenous retailing that spans all price levels, from top to bottom. This is in part achieved by a strong, national affiliation to brands, concepts, or products that originate in Italy and in part through a manufacturing structure that is skilled, flexible, and able to produce for global and local customers (Doyle and Moore, 2010). Thus, in Milan, as in other Italian cities, there remains an inherent "Italianess" about the retailers, and they exude an aura of fashion self-sufficiency. This serves as a local yin to the international yang of what might be termed the global, luxury superbrands, with companies such as Antioni and Curatolo helping maintain a diversity and uniqueness, which in combination with the international Italian brands deliver rich and varied offerings.
In addition to this, many Italian luxury brands, like their international counterparts, have a heritage, a shared competitive history that brings with it a sense of longevity, establishment, and authority — what may be termed authenticity (Moore, Doherty, and Doyle, 2006). In some cases this backstory also incorporates a drama that would stretch the believability of a soap opera, as is so clearly articulated by McKnight (1987) in his "intimate and explosive" (p. vi) review of the Gucci empire and family. Yet, such is the enduring strength and allure of these brands that they continue to survive and exist as global benchmarks for luxury. In almost all cases, the defining feature of Italian luxury is craft, and this informs the brand experience from conceptualization through to realization. Access to this skill set, established and nurtured by the early artisan companies and pioneers of Italian luxury products, provides the foundations for the newer companies. This secures not only an ability to produce goods of the highest standards in terms of design and manufacture, but also a belief in their ability to do so through a carefully orchestrated brand experience.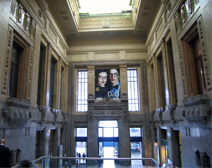 Marc Jacobs, creative director at Louis Vuitton stated that "luxury is about pleasing yourself," thereby emphasising the hedonistic dimensions of luxury whether publically or privately so. There can be no denying that concepts of luxury have changed over time and that the restricted access that traditionally typified luxury is making way for a more egalitarian view of luxury. Many companies, through global reach and brand development, have pursued a broader spectrum of customers than in previous generations. This is arguably a necessary strategy (Doyle and Reid, 2005) if luxury companies are to avoid oversaturation of an economically wealthy but population-restricted market that is further complicated by relatively high numbers of competitors. There is evidence in Milan to support the contention that there is a wider appeal (that is less based upon aspiration and more upon engagement) to the luxury sector, and Italian companies, through their diffusion ranges and brand extensions, have actively pursued this.
There is also evidence of the pleasure principle that Jacobs refers to, not least through the evolved, diversified activities that the Italian fashion companies undertake (see, for example Dolce and Gabbana's recent restaurant launch Gold). There is, however, also evidence that the luxury companies, both young and old, still understand the basic dimensions of luxury, regardless of the scale of the audience. This is manifest in the excellence of the environments from which they trade as much as the quality of the goods that they sell. Gucci with its sharp, slick, and beautifully executed interior (designed by William Sofield) is not only a testament to the company's pursuit of quality or a perfectly pitched backdrop to the product; it is a compliment to the customer and a commitment to their pleasure. Similarly, the Prada store on Via Montenapoleone, opened in 2001 and designed by Roberto Baciocchi, is both retail space and exhibition space — a brand gallery created to display the Prada concept in the best possible light.
If, however, luxury is now typified by hedonism, few deliver this as effectively as Dolce and Gabbana, with whom this narrative started. A distinctive retail handwriting distinguishes the womenswear and menswear stores with David Chipperfield and Ferruccio Laviani designing a voluptuous, seductive extravaganza for Dolce and Gabbana Donna that commands a large chunk of horizontal, single-story real estate on Via della Spiga. The customer navigates a sequence of chambers in an interior that melds the baroque with the modern and in so doing links the store with the city's heritage. Drawing from the same design references, but with greater restraint, the Dolce and Gabbana Uomo store resides in a space formerly occupied by Italian department store chain Upim and predates its female counterpart by a year. Whereas the Dolce and Gabbana Donna is a long, horizontal space that languishes seductively at the corner of the street, the menswear store is a powerful, vertical exclamation. The same design team presents an interior which is part grand salon and part modern masculinity. In the stores there is a "Latin vitality" that invigorates the brand encounter; but there is also a subtlety, a softness of touch, and an attention to architectural detail that elevates the brand. A martini bar and grooming room serve as further evidence of Jacob's view that luxury is about the pleasure of the self. In typically Italian fashion, they also highlight the importance of society and the luxury of shared experiences.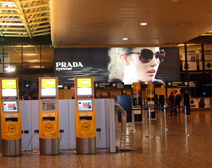 Hence what we find in Milan and other fashion capitals is the luxury embedded in the architecture as much as in the products and services that it houses. Manifestations of quality are carried through from product to environment, with each store serving to communicate the brand values of excellence, innovation, and longevity. These are not short-term interiors, they are in themselves evidence of the architect's vision and the builder's craft, and as such they become a fundamental element of the experience.
Importantly, as luxury brands extend their international reach and seek to distinguish themselves (Foroohaar, 2005), there is a greater urgency for these brands to hold true to their national origins, regardless of the nationality of their owners. In this respect, the city is a contextual backdrop to the brands. It helps the customer, whether local or visitor, to understand the brands in a particular and distinctive way. This is not unique to Milan; the same can be said of Paris (consider Avenue Montaigne or Rue Saint Honore) or London (Saville Row or Jermyn Street). It is impossible not to absorb the wider environment, the sounds, the smells, the rhythms of the city, whether this is the invigorating espresso to kick-start the day or the chilled aperitivo to signal the start of the evening. These situational details act like cues and help us understand the cultural mores of the brands. Furthermore, they help us engage with the brands from a different, possibly better-informed mindset. At the very least they help us understand. There is thus an added dimension to engaging with luxury retail brands on their home territory that is almost impossible to replicate; this is the dimension of cultural context.
This article necessarily provides but a small glimpse of the nature and importance of the luxury fashion companies that are such an integral part of the Milanese landscape and that both influence and are influenced by the city that they occupy. Much more has been omitted than considered. We have not considered, for example, Valextra, a low-volume, high-craft leather goods company with its dignified store on Via Manzoni. Nor did we examine 10 Corso Como, a pioneering fashion and lifestyle retailer that fuses luxury fashion with exquisitely selected household items and includes a gallery, a truly outstanding specialist bookshop, a café, and three in-demand hotel studio rooms as part of its appeal. Here we see a luxury experience "in the round" that understands the customers in all of their guises. 10 Corso Como is both retailer and reference point, an arbiter of acceptability, prestige, and desirability. No mention has been made either of the Bulgari Spa Hotel, which is all that one would expect of Bulgari. In Milan — possibly more than any other city, possibly because it is so concentrated — we witness the centrality of luxury fashion in peoples' lives, whether they are residents or ospiti (visitors) and in the life of the city. We see luxury fashion stretching its brands, recognizing that luxury built upon a totality of experience is transferable. We see the acceptability that luxury companies should do so because this sits comfortably with the entrepreneurial spirit of the Milanese. And through this we see a city that is simultaneously real and fantastic, commercial and conceptual.
References
1. Doyle, S., and J. Reid. 2005. A dedicated follower of fashion: The expansion strategy of David Linley & Co. Ltd. International Journal of Retail and Distribution Management, 33(4): 249–55.

2. Doyle, S. A. 2010. A family affair: Networked fabrication in the Italian textile industry. EIRASS Conference, Istanbul.

3. Foroohaar, R. 2005. Maximum luxury. Newsweek (international edition), July 25, 2005, pp. 40–49.

4. Louis Vuitton City Guide. 2008. European Cities, Vol. VII: Rome, Milan, Turin, Venice.

5. McKnight, G. 1987. Gucci: A House Divided. London: Pan Books.

6. Moore, C. M., S. A. Doyle, and A. M. Doherty. 2006. The flagship store as market entry method. AMS/ACRA Conference, Orlando, Florida.


Top