Current Chief
Chief Patrick A. Ogden 2009-Present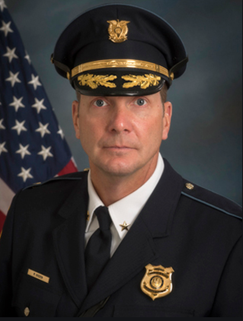 Being appointed to serve the University of Delaware as Associate Vice President and Chief of Police was an honor that I never expected. My father and two of my older brothers were Wilmington police officers. All I ever wanted to do was to follow in their footsteps. Fortunately, I was able to continue the family legacy of public service but took a different path through the state police and ultimately the university police.
I want to express my sincere gratitude to the four Directors of Public Safety and/or chiefs who came before me, as they laid a solid foundation to build upon the great legacy of dedicated campus safety professionals. As the University grew and changed, so did the Department of Public Safety. I often say that the tragic events of September 11, 2001 in New York, Washington DC and Shanksville, PA, changed the world as we knew it, and the tragic events of April 16, 2007, at Virginia Tech changed campus policing as we knew it. Those heartbreaking incidents led to an increased commitment in public safety across the globe.
The University of Delaware made significant investments in campus safety as well. In order for any University to thrive, there is an obligation to foster an environment where our students, faculty and staff feel safe to learn, work and explore. As a result, I was afforded the opportunity to build a great team, who assisted in developing innovative crime reduction strategies and community policing initiatives to enhance safety and decrease Part I crime, by nearly 60% over the last 11 years. This collaborative approach included the development of the first UDPD Critical Incident Response Team, Crisis Negotiation Team, Community Engagement Teams, K-9 Unit, Motorcycle Unit, and patrol rifle program, as well as enhanced partnerships with the local, state and federal law enforcement agencies. We were able to introduce de-escalation strategies, as well as less lethal force options and place a greater emphasis on technology, to include video surveillance cameras, license plate reader cameras, body worn cameras, a smartphone safety app and other related systems. Finally, we led the department through its first four advanced law enforcement reaccreditation processes and our initial public safety communications accreditation process from the Commission on Accreditation for Law Enforcement Agencies.
I am proud Blue Hen Crime Fighter, who is passionate about reducing crime, enhancing safety and building trust within our campus community. One of the things I enjoy most about leading the Department is cultivating internal and external relationships, while serving as a mentor for our students and embracing my bilateral role as an educator. My time serving in this capacity has been challenging but extremely gratifying and transformational. The opportunity to collaborate on a daily basis to solve problems is nothing short of awesome! As far as the future of the Department is concerned, I understand that the key building blocks to ensuring that we continue to fulfill our mission are accountability, transparency, training, community outreach, campus partnerships and succession planning. I want to ensure that those following me are cultivated from within the Department and we continue to serve in an exemplary fashion to ensure the safety our community, while maintaining international credibility as a dynamic leader in campus law enforcement