FACULTY:
Faculty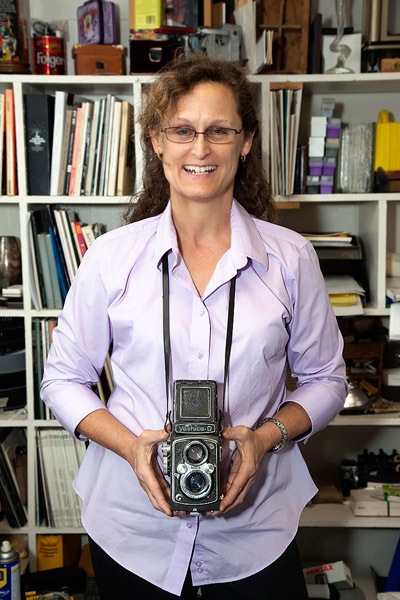 Priscilla Smith
Associate Professor
pasmith@udel.edu
017 Taylor Hall
Office Hours: Tuesdays and Thursdays 4:00pm - 5:00 pm and by appointment
302.831.3499
M.F.A., University of Illinois, 1986
B.F.A., Texas Tech University, 1980
Priscilla Smith taught at Colgate University before joining the Department of Art at the University of Delaware. She teaches digital media, photography and video. She managed the facilities and was Area Coordinator of Photography at UD from 1992 - 2008 and contributed to an award winning Graduate Photography program. She began the department's first Photography Internship course and Study Abroad program taking students to New Zealand in 2000. Since that time she has led numerous New Zealand study abroad programs and began taking students to Vietnam in 2009.
Smith began exploring the photographic medium as an undergraduate pre-med major. Her interest in engaging both science and photography has led to work exploring fine art and as a medical and forensic photographer. Smith incorporated this experience in work on location for National Geographic Society and Odyssey Marine Exploration when she photographed artifacts discovered in a Civil War era shipwreck. A book of her photographic illustrations of the Historic Read House in New Castle, Delaware was published in 2012.
As a graduate student her large-scale figurative photographs were recognized by critic Donald Kuspit. Smith's current figurative work combines contemporary and archaic materials incorporating digital printmaking technology with encaustic wax process, gold leaf, and pigment. As photographic artist, she has exhibited nationally and internationally, with photography included in the collections of The Philadelphia Art Museum, Woodmere Art Museum, Munson-Procter-Williams Art Institute and George Eastman House, International Museum of Photography and Film. Smith was awarded a Lightwork Fellowship, and Delaware State Arts Council Emerging and Established Artist grants.
Exhibitions, International Juried
2009 Hun Gallery, NY, NY
Art and Seoul, Seoul, Korea
Salmagundi Art Club, NY, NY
Presentations
2009 University of Social Sciences and Humanities, Vietnam National University, Hanoi
Collections
2006 Philadelphia Art Museum - Permanent Collection
Woodmere Art Museum - Permanent Collection
Awards
2007 Delaware State Arts Council Established Artist grant.

[an error occurred while processing this directive]