FACULTY:
Faculty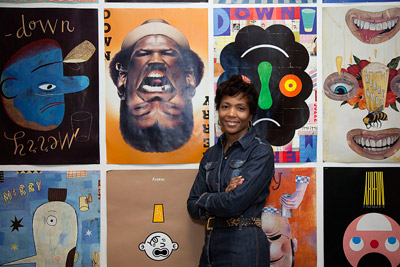 Robyn Phillips-Pendleton
Associate Professor
robynp@udel.edu
303 Recitation Hall
Office Hours: Mondays and Wednesdays 1:10pm – 2:10pm by appointment
302.831.2244
M.F.A. (Illustration) Syracuse University, 1995
B.F.A. (Illustration and Graphic Design) Virginia Commonwealth University, 1989
Robyn Phillips-Pendleton began her career as a graphic artist intern with USA TODAY in 1987. After receiving her BFA degree, she became a news graphic artist and illustrator for The Prince George's Journal newspaper, in Prince George's County, MD, and shortly after, the Daily Press Newspaper, in Newport News, VA.
While pursuing her MFA at Syracuse, she became a full time junior graphic designer for Syracuse University Publications Department. Robyn taught Illustration and Foundation Design courses at Syracuse University towards the end of her MFA studies. She became a Master Teacher at the New York Summer School of the Arts upon receiving her degree. In 1996, Robyn came to the Department of Art as an Assistant Professor of art, and is now an Associate Professor in the Visual Communications Program.
She has created illustrations for institutions of higher education, children's CD covers, editorial magazines, and publishing companies. Her work has also been featured in national and international Illustration and Fine Art juried exhibitions. She is an artist for the United States Air Force Artist Program, located in the Pentagon. She was commissioned to create paintings for the United States Air Force depicting the earthquake events in Haiti, and the 2013 Inaugural activities, and readiness alert activities of the 113th F-16 Air Alert Wing.
She recently finished illustrations for a children's book to be published by Mariposa Press, and will be delivering an academic paper at the Illustrator as Public Intellect Symposium at RISD, in Providence, RI, in November of this year. She resides in Newark, DE with her husband and son.
Awards, Exhibitions, Publications
2012 (in process) Homework Breakfast, written by the Twin Poets
Children's Book Illustration
Mariposa Ranch Press

October 2012, Juried
Richeson 75 Figure & Portrait 2012
International Exhibition Jack Richeson School of Art and Gallery
Kimberly, WI

2012, Juried
The 58 Richeson / Shiva Award for Casein Painting
National Society of Painters in Casein and Acrylic Inc.
Salimagundi Club
47 Fifth Avenue
New York, NY

2012, Juried
50th Illustration West
Society of Illustrators Los Angeles
Gallery Nucleus, and Society of Illustrators West
Website Exhibition
10 East Main Street
Alhambra, CA 91801

2011, Air Force Art Exhibition
Thurrgood Marshall Airport (BWI)
International Terminal
Baltimore, MD

2011, Prevailing Human Spirit, page 66
Tenth Anniversary of the 911 Tragedy
Fertile Word Press
Society of Illustrators

2010, "Soldiers Armed with Pencil and Paint"
Exhibition Review
Wall Street Journal
November 11, 2010

2010, National Air Force Museum Exhibition
Wright Air Force Base
Dayton, Ohio

[an error occurred while processing this directive]