FACULTY:
Faculty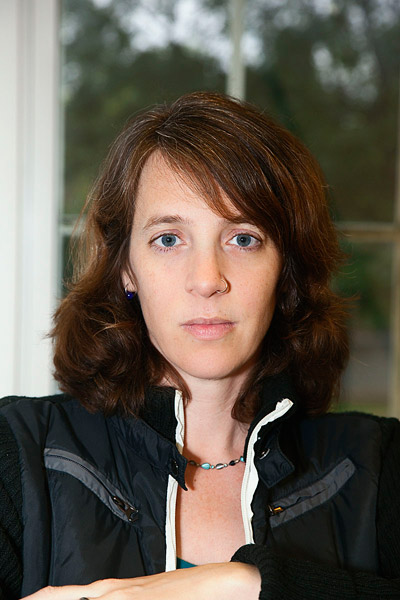 Amy Hicks
Assistant Professor
amyhicks@udel.edu
www.amyhicks.org
013 Taylor Hall
Office Hours: Mondays and Wednesdays 11:00am – 12:00pm and by appointment
302.831.2244
M.F.A. (New Genres) Stanford University, 2005
B.A. (Photography) University of California, 1990
Amy Hicks teaches digital media with an emphasis on conceptual video art, stop-motion animation and pre-cinematic motion studies. Prior to her arrival at the University of Delaware, Hicks lectured at University of California Berkeley, Stanford University, San Francisco Art Institute and California College of the Arts.
Hicks' videos often explore transformation: fluctuating states of becoming, an engineer's blueprint, visions of the future, scientific experiments, cinematic transitions, and the creative process that translates an idea to something tangible. Trained in photography, she began making experimental work with film, video, and analog/digital combinations in 1999. Her award-winning films and videos such as the dystopic Hatching Beauty and abstract Suspended Series have appeared in museums, galleries, and film festivals around the globe from California to New York and Poland to France including the Ann Arbor Film Festival (MI), Pacific Film Archive (CA), Henry Art Museum (WA), New Langton Arts (CA), the Musee d' Art Moderne et Contemporain (Strassbourg, FR), diRosa Preserve: Art and Nature (CA), San Francisco International Film Festival (CA), Hosfelt Gallery (CA), and Southern Exposure (CA) among others. Her collaborative work has been included in group shows at The LAB (CA) and the Lower Manhattan Cultural Council (NY).
Selected Exhibitions, Presentations and Awards:
2010 Robots: Evolution of a Cultural Icon, Boise Art Museum, Boise, Idaho. Exhibition toured Ulrich Museum of Art, Wichita Sate University, Wichita, Kansas; Sonoma County Museum, Sonoma, California
2009 I, Daughter of Kong, Lower Manhattan Cultural Council, New York, New York
Super Massive Suspension: Amy Hicks and Nate Boyce (A Retrospective), San Francisco International Animation Festival, San Francisco Film Society, San Francisco, California
Reflections: Material and Metaphor, Cinema Arts Series, Exploratorium, San Francisco, California
2008 Amy Hicks: Suspended Series, Meat Market Gallery, Washington, DC
Code-Switchers, The LAB, San Francisco, California
Robots: Evolution of a Cultural Icon, San Jose Museum of Art, San Jose, California
Residency, Djerassi Resident Artists Program, Woodside, California
John D. and Susan P. Diekman Fellowship, Djerassi Program
2007 Individual Artist Grant, San Francisco Art Commission
Mobile Archive, Digital ArtLab, Holon, Israel. Exhibition traveled to Kunstverein, Hamburg, Germany; WYSPA Art Institute, Gdansk, Poland; Galerija Nova, Zagreb, Croatia; and Skuc Gallery, Ljubljana, Slovenia
2006 Amy Hicks: Suspended Series, Catharine Clark Gallery, San Francisco, California
Amy Hicks: Suspended Series, San Jose Institute of Contemporary Art, San Jose, California
MFA Biennial, diRosa Preserve: Art & Nature, Napa, California
CrossCultural, Digital ArtLab, Holon, Israel
Circles of Confusion, San Francisco International Film Festival, San Francisco, California
Golden Gate Award Nominee, San Francisco International Film Festival
2005 Bay Area Video Art, Musee d'Art Moderne et Contemporain, Strassbourg, France. Exhibition traveled to Fluctuating Images, Stuttgart, Germany

[an error occurred while processing this directive]