FACULTY:
Faculty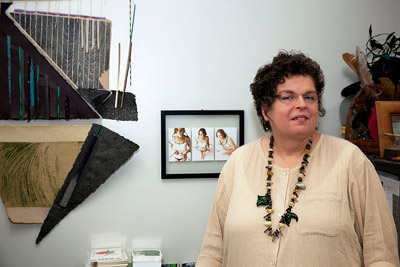 Vera Kaminski
Associate Professor
vera@udel.edu
103 Taylor hall
302.831.2244
M.F.A., Maryland Institute College of Art, 1973
B.S. (Art Education) Moore College of Art, 1970
Vera Kaminski first came to the UD Art Department faculty in 1974 after teaching Art in Baltimore City Public Schools as well as serving as a visiting professor at Montclair University and Millersville University. During her career at UD she has worn many different professional hats starting with teaching art methods to Elementary and Art Education Majors while simultaneously building a fine art curriculum concentration in Fibers. Aware of the important link use of industrial methods has played in textiles, Kaminski pioneered establishment of the Computer Art Site within the Art Department. This included use of digital technologies for creative imaging and manufacturing.
Vera Kaminski has played a professorial role in interdisciplinary and mixed media training of undergraduates within Foundations. Most recently she began teaching non-art majors in a new general education art course entitled Design in the Visual Arts. This basic studio introduces non-majors to strategic ways artist/designers use art elements and organizing principles to effectively engage the attention of audiences. Participants experience two-dimensional and three-dimensional media using hands-on creative visual problem solving processes to form original expressive statements.
In her own creative work, Vera chooses to focuses on wearable, space shaping fabrications to communicate expressive and conceptual ideas. Her most recent creative work focuses on one-of-a-kind necklaces using precious metal clay accented with gemstones and painterly hand enameled surfaces along with integration of her unique small-scale flameworked and cast glass elements.
Solo Exhibitions:
2006 Making Ends Meet Cecil County Community College, North East, MD
2010 Encompassing Auras Blue Streak Gallery, Wilmington, DE
Group Exhibitions
2010 Brandywine Festival of the Arts, Craft Fair, Wilmington, DE
2010 Currency, Juried Group Exhibition, Art in City Hall, Philadelphia, PA
2009 Group Exhibit, International Flameworking Conference, Salem Community College, NJ
2008 Charm Exhibit & Auction, International PMC Conference, Purdue University, IN
Publications
2008 Review No Green Berries or Leaves The Creative Journey of an Artist in Glass,
Autobiography by Paul Stankard, MARCH 2008 American Craft February/March Volume 68 No 1

[an error occurred while processing this directive]