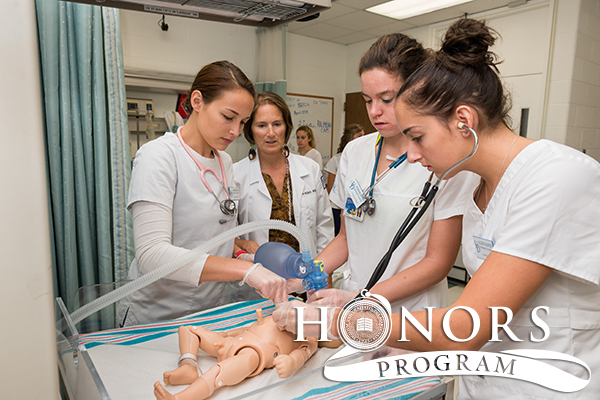 Honors Program
10 Reasons for Honors Nursing
Interact with other Honors students
Live in the Honors dorm, Louis Redding Hall, a new addition to East Campus
Get involved with faculty research, including on-line support for family caregivers, movement disorders, and smoking cessation

Participate in cadaver dissection in anatomy lab
Gain additional clinical experiences early in the curriculum including field trips to The Body Works exhibit, Longwood Gardens to study plants used in medicine, and to a funeral home
Take part in clinical experiences at multiple sites during senior courses, including centers for treatment of eating disorders and drug and alcohol abuse
Experience public policy in action through a field trip to Legislative Hall and campaign experiences
Participate in Study Abroad in South Africa, France, Peru, Australia, and other countries
Make long-lasting friendships with a supportive group of students to collaborate on interesting projects, shadowing experiences, and field trips
Challenge yourself to go above and beyond, participating in academic endeavors open only to Honors nursing students (e.g., freshman cadaver lab)
Please download the current Nursing Honors Program Curriculm here.
Please download the current Nursing Honors Award and Degree Opportunities here.
Honors Program Testimonials
"Doing a cadaver dissection in the anatomy lab was an amazing experience."
– Marissa Alligood Merson, candidate for Honors Degree with Distinction, Class of 2012
"The nursing program is undeniably challenging, but it also includes so many awesome opportunities to expand your reach as an individual, particularly if you are in the Honors program."
– Jenny Fei, change of major, premed, Class of 2014
"Being in the honors program makes you a step ahead in getting yourself to stand out in the UD nursing community."
– Brittany Drazich, Class of 2013
"The extra projects, field experiences, and hands-on learning experiences challenged me and pushed me to better understand the material and apply it practically."
– Emily Holian, Class of 2013
"I specifically enjoyed the pharmacology experience, where we watched medications being prepared and administered in a hospital pharmacy."
– Jaci Crowley, Class of 2011
"I learned new education technology options (Second Life) and worked on projects (developed patient/client/family education classes). The Honors program enabled me to reach my full potential."
– Danielle Jacoby, Class of 2014
"Overall, the Honors program allowed us to enhance our classroom and clinical time with extra field experiences, research, and discussions. It was a beneficial and important experience at the University of Delaware for me."
– Elizabeth (Liz) McLean, Class of 2011

"Because of the Honors Program, I dissected a cadaver as a freshman, interviewed nurses at the National Institutes of Health as a sophomore, spent time in the NICU as a junior, and experienced psych nursing at multiple settings instead of just one as a senior."
– Sarah LaFave, Candidate for Honors Degree with Distinction, Class of 2011 Sarah founded the organization "Lori's Hands" in memory of her mother at the University of Delaware in 2009. Lori's Hands volunteers serve elderly individuals and families affected by chronic illness.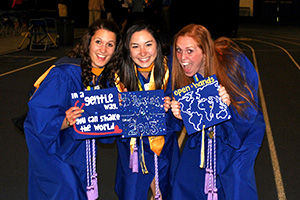 The School of Nursing Honors Program builds on and reflects the UD Honors Program. The program values and promotes unique opportunities for Honors students including increased depth of exploration of course content, working side-by-side with faculty on their research, and experiencing clinical practice at more than one site for a course. In addition, Honors students have initiated and been major contributors to service-learning activities.
Where are our graduates?
Our graduates are employed in a variety of health care settings including schools, hospital, occupational health, nurse managed health centers, federally qualified health centers, military treatment facilities, political arena, public health, and serving in a variety of roles, educator, researcher, and administrator.
Alumni Contacts
Graduate student opportunities in advanced practice nurse programs for Clinical Nurse Specialist, Nurse Practitioner, Certified Nurse Midwife, and Nurse Anesthetist.