Maternal/Child Clinical Simulation Lab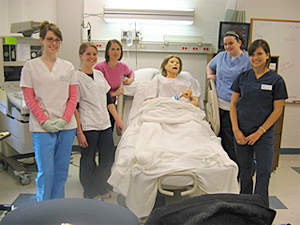 The Maternal-Child Clinical Simulation Laboratory is a state-of-the-art facility developed to enhance learning and allow students to achieve skill competency in their junior year. Junior year nursing students are enrolled in pediatric and womens health courses concurrently and are provided with the opportunity to apply knowledge obtained through course content into a practical setting before the senior year residency program. The simulation lab is a learning laboratory that provides the opportunity for both active and independent learning through the use of interactive computer-based programs and automated simulation mannequins.
The anatomically complete simulators function much like human patients, producing multiple critical scenarios that require the learner to react appropriately while assessing vital functions such as heart and lung sounds. The lab is operational with a simulator for each age spectrum which includes a METI ™ pediatric simulator, Noelle ™ birthing simulator with Gaumard's Newborn Hal, and a Laerdal SimBaby. The pediatric human patient simulator developed by METI ™ not only provides the opportunity for students to develop psychomotor skills, but also allows learners to advance critical thinking, decision making and team coordination skills through multiple detailed scenarios. These scenarios include Postoperative Care of the Septic Patient Secondary to a Ruptured Appendix, accidental overdose, closed head injury, diabetic ketoacidosis with hypoxemia, and a trauma with pneumothorax, to name a few. The Computer Interactive NOELLE™ and Newborn Hal offer learners the opportunity to care for the mother and fetus before and the mother and neonate after delivery. Noelle provides students a complete first hand birthing experience before, during, and after delivery with the ability to endure related complications. With the SimBaby, the baby can breathe, cry, and be programmed to respond physiologically to students' interventions during scenarios designed to mimic actual patient situations.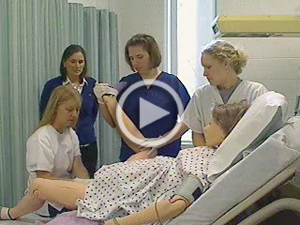 Furthermore, the laboratory is equipped with three computer workstations for student use that are programmed with nursing software related to specific course needs, including demonstration videos, a fetal monitoring tutorial, simulated clinical patient care scenarios, and NCLEX practice exams. With all of the resources within the simulation laboratory, students are able to gain a solid understanding of pediatrics and womens health. Students are able to incorporate the principles and skills into a variety of the clinical settings during the senior year residency program.