Disaster Drill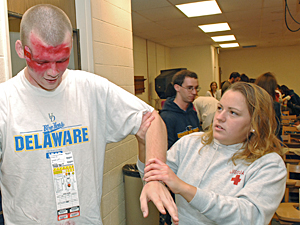 Each semester the School of Nursing works collaboratively with Healthcare Theatre, UD Emergency Care Unit and UD Police to implement a disaster drill that typically simulates an explosion or major catastrophic event. The drill involves100 students and a dozen faculty and staff helped to create the mock incident.
The goal of the drill is to teach junior nursing students the basics of mass casualty triage as students apply their assessment skills and understand the importance of communication during an emergency. It is important that all nurses in all specialties be prepared to care for people affected by disasters since they could happen anywhere at any time. This experience allows students to have a feel for what it is like to receive multiple casualties and to be involved in multiple casualty incidents.
During the drill, Healthcare Theatre and sophomore nursing students are moulaged to create a multitude of traumatic, psychological, and emotional victims of a disaster. Junior nursing students work with emergency medical services to coordinate triage, assessment, help transport patients from the scene of the incident to the makeshift hospitals in the nursing laboratories. Others were used to create a mass-casualty as simulated patients suffering from life threatening injuries or interfering with patient care. Juniors assist the primary nurse by performing assessments and administering care to the victims as seniors gain experience in triaging patients, delegating responsibility, performing assessments and administering care to victims.
"I had been meaning to e-mail you this summer but I just wanted to tell you how much the disaster drill you put together last semester helped me this summer. I thought the drill was interesting, but never in my wildest dreams did I imagine that I would actually rely on that information at work this summer. I worked in the ER of Bellevue Hospital in NYC and when our disaster phone rang the day the steam pipe exploded, it was a complete panic. I really felt prepared because of the drill and I was able to understand what was going on when all the people came in with the tags around their necks and the whole disaster procedure. I was thrown in a Hazmat suit and I helped shower the people covered in asbestos. The way the ER ran that day was very similar to the drill we ran last spring and I just wanted to thank you and let you know that because I found it very useful. " - Pam Feld, former student.