Employment Opportunities
The University of Delaware Police Department works to create an environment where people can feel safe to learn, work, live and visit and is committed to providing quality service and protection to the entire University community. We are located halfway between Washington, DC and New York and offer a comprehensive benefits package, which includes medical, dental, vision, cost of uniforms and tuition remission for eligible employees, their spouse, and dependents.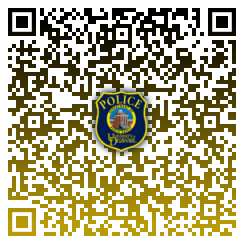 The following are the positions that we typically hire for in the University of Delaware Police Department along with qualifications and details on the each hiring process, as well as FAQs.
Click or scan this QR code to submit an interest form to be notified when a position becomes available!
The University of Delaware Police Department is charged with providing a safe and secure environment for our campus community. All members of the University Police Department are committed to providing proactive, progressive and professional law enforcement services. In addition to providing traditional police services on campus, department staff are trained to understand the pressures and needs of students, faculty and staff. The department's mission is not only to enforce the law but also to educate students, faculty, staff and the visiting public as to how, in cooperation with the police, they can be better prepared to enhance their personal safety. Whatever the assignment, wherever the opportunity, University Police officers perform their duties in support of the educational mission of the University of Delaware.
Apply Here!
Dispatchers assist in the operation of the emergency communication center. Dispatchers are the first point of contact between the University community and the University of Delaware Police Department. Dispatchers are responsible for providing an appropriate response to each individual situation and must make immediate decisions regarding the necessary emergency personnel dispatched to each event called into the communications center.
Apply Here!
Security officers serve as uniformed members of the University of Delaware Police Department and are responsible for a variety of tasks which include but are not limited to: patrolling the campus to ensure the security of facilities and the safety of students, staff and visitors; locking or unlocking buildings; assisting visitors, students or staff by providing information, directions or assistance; and providing traffic control. Security officers are located on both the Newark campus and Lewes campus.
Cadets are part-time employees who work closely with Police and Security within the University of Delaware Police Department. Information on the Cadet program as well as how to apply can be found here
Auxiliary Security Officers are part-time employees that are responsible for tasks similar to full-time Security Officers and Cadets. They are also responsible for assisting with the administrative functions within the department. Auxiliary Security Officers are located on both the Newark Campus and Lewes Campus. Special requirements for this position include prior law enforcement experience, or equivalent combination of education and experience. Interested applicants can submit applications here
If you are interested in the University of Delaware Emergency Care Unit, please click here.
Frequently Asked Questions
To be notified about any future hiring process, send an email to udps-jobs@udel.edu indicating that you would like to be added to the notification list. Please indicate whether you are interested in the police officer, dispatcher, and/or security officer hiring process. Once a hiring process opens, you will be notified via email with information on how to apply.
Given the multiple steps of our hiring processes, each hiring process can take at least 4 months from application submission to final offer letter.
A yearly hiring process is conducted for police officer hiring (even when there are no openings). Dispatcher and security officer hiring processes are held as needed when an opening arises.
While a good number of our Cadets are UD students, you do not need to be a UD student (or a student at any university) in order to apply to become a Cadet.
Cadets must be 18 years of age or older.
For a police officer coming from another state it is decided on a case by case basis once experience is reviewed but most likely some training at the academy will be required.
The University of Delaware is an Equal Opportunity Employer which encourages applications from minority group members and women. Please see our Legal Notices page for more information.
If you have a question once you review this information, please email udps-jobs@udel.edu