Community Police Academy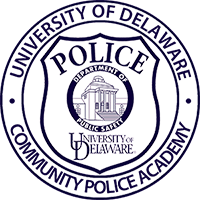 Now accepting applications for the Spring 2018 class!
The Community Police Academy (CPA) is an informative learning process that provides an opportunity for citizens to receive 8 weeks of both classroom and field instruction regarding the various responsibilities facing our officers. CPA students are also made aware of the procedures and techniques used by officers in a variety of scenarios, together with the rationale and justification in support of those procedures or techniques.
CPA students receive information and instruction on various topics, including: use of force, defensive tactics, special operations, criminal investigations, evidence gathering techniques, demonstrations by the SWAT Team and K-9 Unit, and much more. All of this is enhanced by their opportunity to ride along with an officer and engage in target practice with some of the department's specialized weapons.
This program is offered to all UD students, faculty, staff and Newark residents at no cost. Meals will also be provided each week.
Spring 2018 schedule: Tuesday evenings: March 6th - May 1st at 5 pm.
All those interested in particpating in the Community Police Academy should return completed applications to Cpl. Alaina Crew via email: cru-udpd@udel.edu or via mail at the address below. Applications for the spring 2018 class must be received by February 15th, 2018.
Cpl. Alaina Crew
University of Delaware Police
413 Academy Street
Newark, DE 19716