Delaware Bluefish Swim Team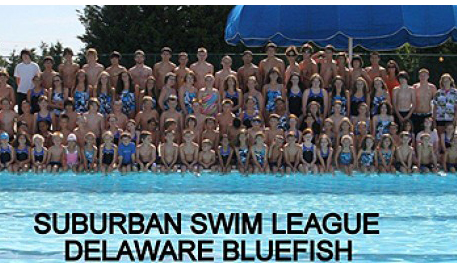 In order to be a member of the swim team you MUST be a member of the 2017 University of Delaware outdoor pool The Swim Team is open to outdoor pool members ages 5 to 18, who are able to swim at least one lap (25 meters), unassisted using freestyle or backstroke form. This is an instructional league where ALL Bluefish swimmers participate in each meet.
Team Registration: Fred Rust Ice Arena Information Window.
Time: The Fred Rust Information window is open Monday-Friday 8 a.m.-6 p.m.
Registration Fee : $65 first family member, $55 each additional family member (additional cost of $35 per family will be collected by the team for year end awards and supplies for end of the year party).
Team Highlights:
Season begins after Memorial Day and operates through the middle of July

Eight swim meets, involving all team members, will be held during the season.

Wednesday meets begin at 6 p.m., and Saturday meets begin at 9 a.m

The practice schedule will be available on the website once schools are dismissed for summer. Normal practice time is 9am-11am Monday-Friday

Ribbons awarded to winners during the season

End of the season party on July 22, 2017

Excellent Coaching Staff, under the direction of Bryan Stambaugh.
For more information, including practice schedules, home and away swim meet schedule, swimsuits and team t-shirts please visit the team website: http://delawarebluefish.com/ or e-mail debluefishswimteam@gmail.com