History of the School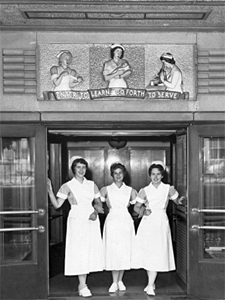 In 1962, the Department of Nursing was established in the College of Arts and Sciences. The first bachelor of science in nursing degrees were awarded in 1966, and the program was accredited by the National League for Nursing. In July 1966, the Board of Trustees approved a change in the status of the department and the original College of Nursing was founded.

In the 1990s, the college was expanded to include the Department of Medical Technology, the Department of Nutrition and Dietetics, and the Department of Physical Education and Recreation (called the Department of Health and Exercise Sciences) and was renamed the College of Health and Nursing Sciences. As the nursing program grew in size and expanded its focus on the tripartite mission, the "Department" changed its name to reflect this growth; effective July 2005, the name changed to the "School of Nursing" (SON) and the College then revised its name to the "College of Health Sciences" (CHS). In 2009, the department of Physical Therapy joined the CHS. The Department of Health & Exercise Science was divided into the departments of "Behavioral Health & Nutrition" and "Kinesiology & Applied Physiology" in 2010 so that currently the CHS includes four departments and the SON.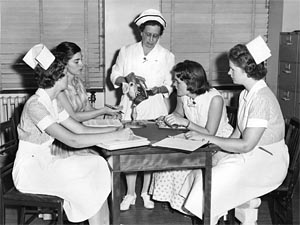 In 1968, the College of Nursing initiated a plan for registered nurses from diploma or associate degree programs to obtain a BSN degree. In 1993, a revision of that plan resulted in the Bachelors for the Registered Nurse (BRN) major for RN students. The BRN major is offered in a distance format and is specifically designed to meet the learning needs of RN students. In 1994, an accelerated second degree program for returning adult students with a bachelor's degree in another major was initiated.
The Master of Science degree program was established in the fall of 1968 and awarded initial accreditation in Spring, 1973 with specialties in nursing administration and clinical nurse specialist. In 1993, the Family Nurse Practitioner program was added. During the Fall, 2004, an online RN to MSN program allowed students to concurrently earn their BSN and MSN degrees. For over 20 years, our MSN programs have prepare students for the roles of nurse practitioner, clinical nurse specialist and health services administrator. We obtained accreditation by the Commission on Collegiate Nursing Education (CCNE) in 2006. In Fall 2011, the PhD in Nursing Science Program was launched; a student's fit with research expertise of nursing and interdisciplinary faculty defines the program of study and dissertation.